This is part of a sponsored collaboration with TABASCO®, in DiMe Media. However, all opinions expressed are my own and I only work with brands I love.
Summer is not over and there's till time to enjoy the fiesta! To end the summer outdoor festivities with a kick, I thought about kicking it up a notch and creating 3 ways to spice up a taquiza with #TaquizaTabasco!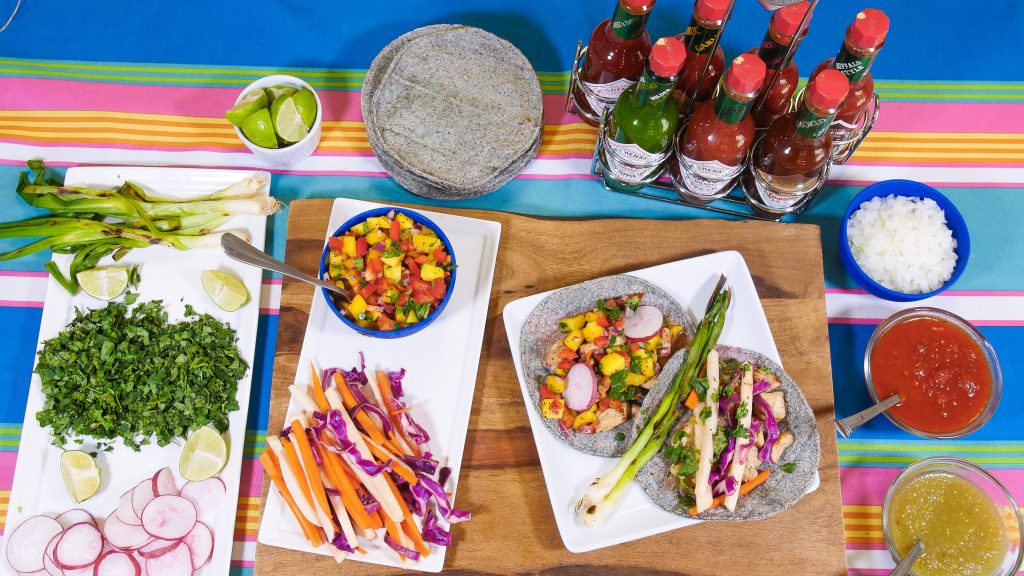 Wait… some of you might not know what a taquiza is! Truth is, I've been having them for years but it was only recently that I discovered the actual name for them. Basically, in traditional Mexican lingo, a taquiza is an informal gathering (a reunion or fiesta) in which guests can create their own tacos. This is why all sorts of delicious meats and fixings are usually presented at a table, a type of "buffet-style". In Honduras we call it a "taqueada", so you might know it by that name.
Anyhow, I enjoy spicy food, and tacos and chile go hand-in-hand, so it was a no-brainer that if I was hosting a taquiza, I was going to have spicy fixings!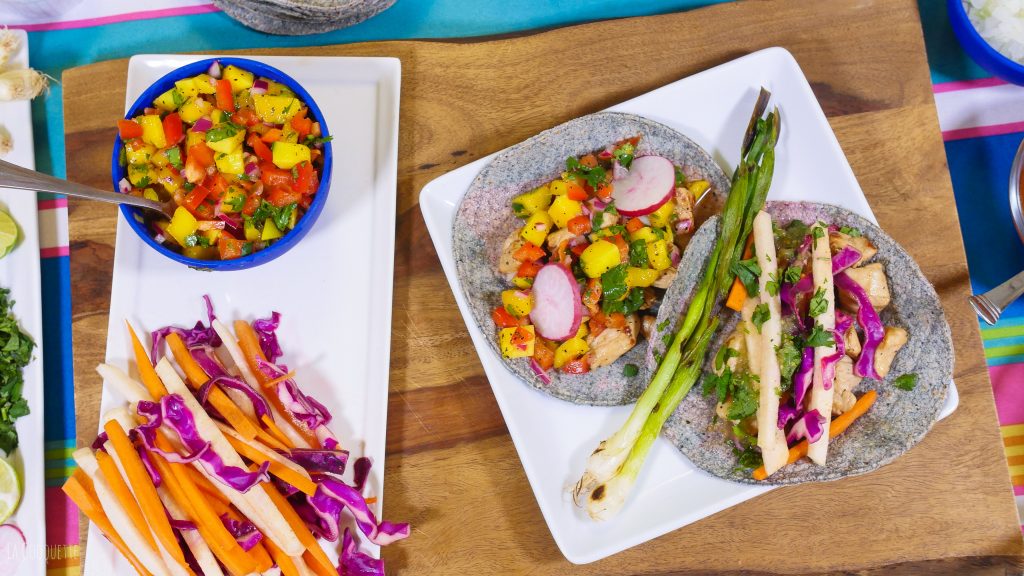 I decided to go for the easier type of meat: chicken. But no… this chicken wasn't going to be your ordinary chicken! I created a juicy chipotle marinade using the TABASCO® Chipotle Pepper Sauce, olive oil and lime juice. Even if it was grilled, the chicken remained moist and thanks to the sauce it was super flavorful! After the meat, it was time to think about fixings…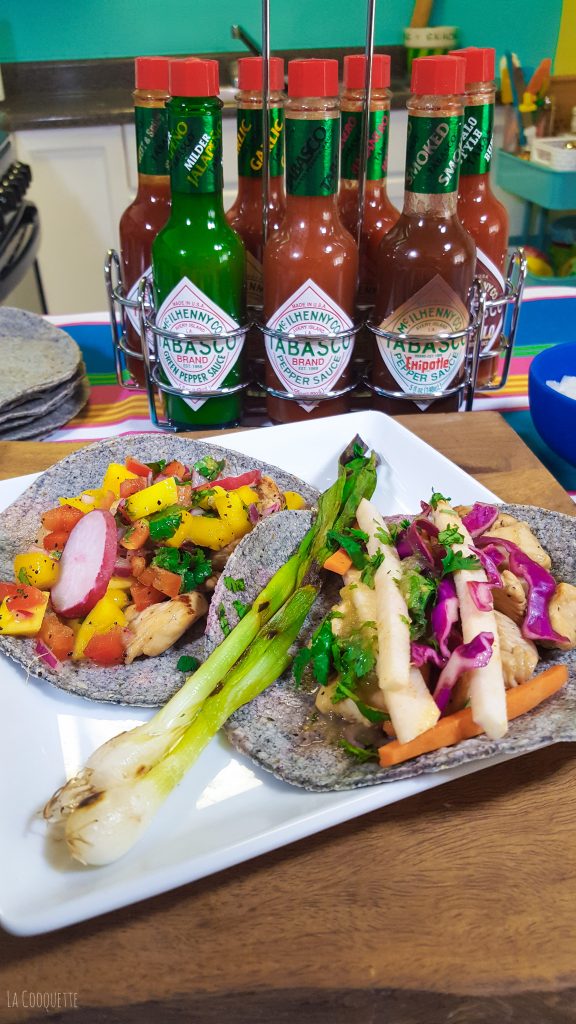 If you've ever been to a taquiza or seen one, you know the usual fixings include:
Sliced radishes
Chopped cilantro
Chopped onions
Cebollitas (spring onions) *by far my favorite!
A variety of salsas, any type of red or green salsa
Sliced limes
Tortillas (I used blue corn tortillas)
Since I wanted to spice things up, I created two additional fixings:
A jícama and carrots sweet and spicy slaw, using TABASCO®'s Sweet and Spicy Sauce, and a mango habanero salsa with TABASCO®'s Habanero Sauce. In the end, you get two very easy-to-make fixings that add a punch of sabor! It's amazing how little of sauce is needed not only to provide a spicy touch but to really add and enhance the flavor of these recipes!
If you'd like to see how easy it is to make these, here's a short video on the 3 ways to spice up a taquiza!
In the end, my taquiza not only tasted great but LOOKED super colorful! Hope you can try this on your own – the cool part is that there are a variety of TABASCO® pepper sauces to try and mix with any fixings of you preference. There's the Original Red Sauce, a Green Jalapeño Sauce, the Habanero Sauce (great with mango… though be careful, it packs a lotta heat!) and the yummy Chipotle Sauce – they each can add a punch of bold flavor to any dish from savory to sweet!
To find more fun dishes, visit TABASCO.com. You can also follow TABASCO® on Facebook, at @Tabasco and on Instagram at @TABASCO.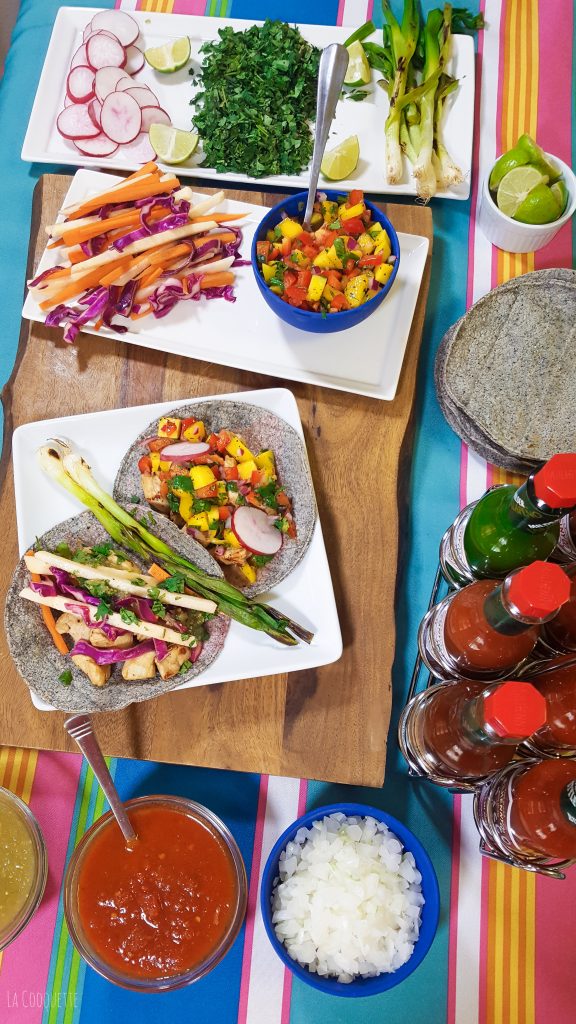 3 ways to spice up a taquiza (recipes)
Prep time:

30 min  

Cooking time:

10 min  

Total time:

40 min
—> For preparation steps, see the 3 ways to spice up a taquiza video I posted above!
Ingredients (taquiza for two)
about 1 pound chicken fajita meat, no-bone, chopped in smaller squares — marinated
Chicken chipotle marinade:
½ tsp chicken bouillon

1/3 cup of olive oil

¼ Worcestershire sauce

the juice of 2 limes

a few drops ofTABASCO® Chipotle Pepper Sauce

salt and pepper to taste
Usual Fixings:
6- 10 tortillas
spring onions
1 bunch of cilantro, chopped
1/3 of a white onion, chopped in squares
red salsa
green tomatillo salsa
lime wedges
sliced radishes (I used 3)
Jícame sweet and spicy slaw:
¼ cup apple cider vinegar
½ medium-sized jicama, peeled and sliced in thin slices
1 and ½ carrots, peeled and slice in narrow and thin slices
salt and pepper to taste
a few drops of TABASCO® Sweet & Spicy Pepper Sauce
Mango Habanero Salsa
½ big ripe but firm mango, peeled and chopped in small squares
½ medium-sized red bell pepper, chopped in small squares
1 small bunch of cilantro, chopped
1/3 of a small red onion, chopped in squares
juice of 3 limes
a few drops of TABASCO® Habanero Sauce (this one's super spicy!)
salt and pepper to taste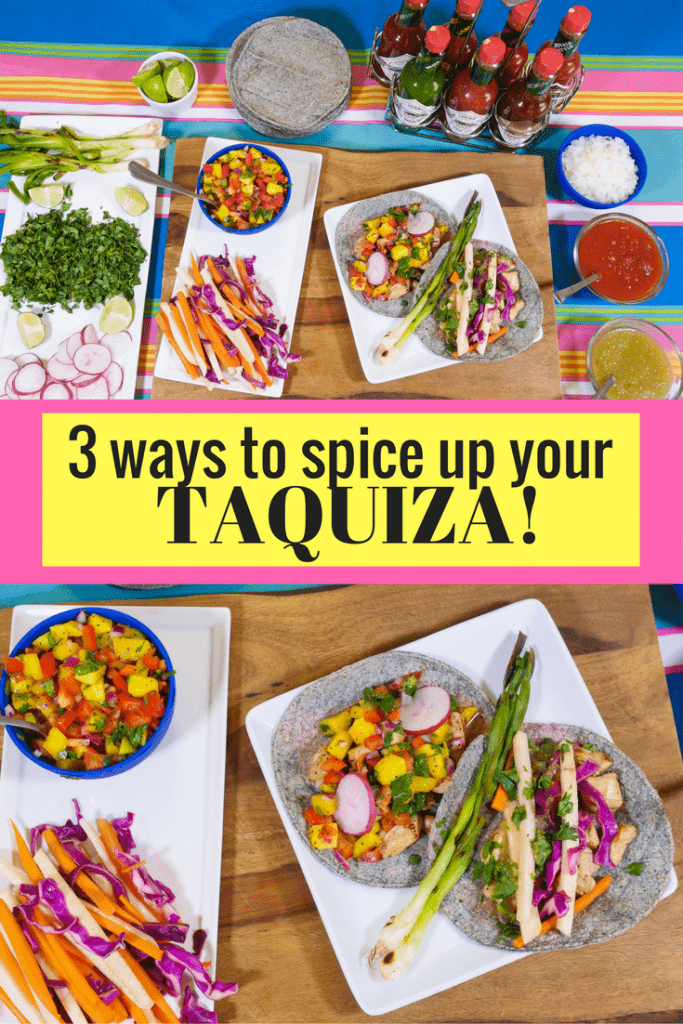 Related posts: