Olá, bem vindo! I feel as if after trying out all these Brazilian recipes for the World Cup I suddenly am becoming a little bit more Brazilian myself. Don't you love how Portuguese sounds? It is so smooth!!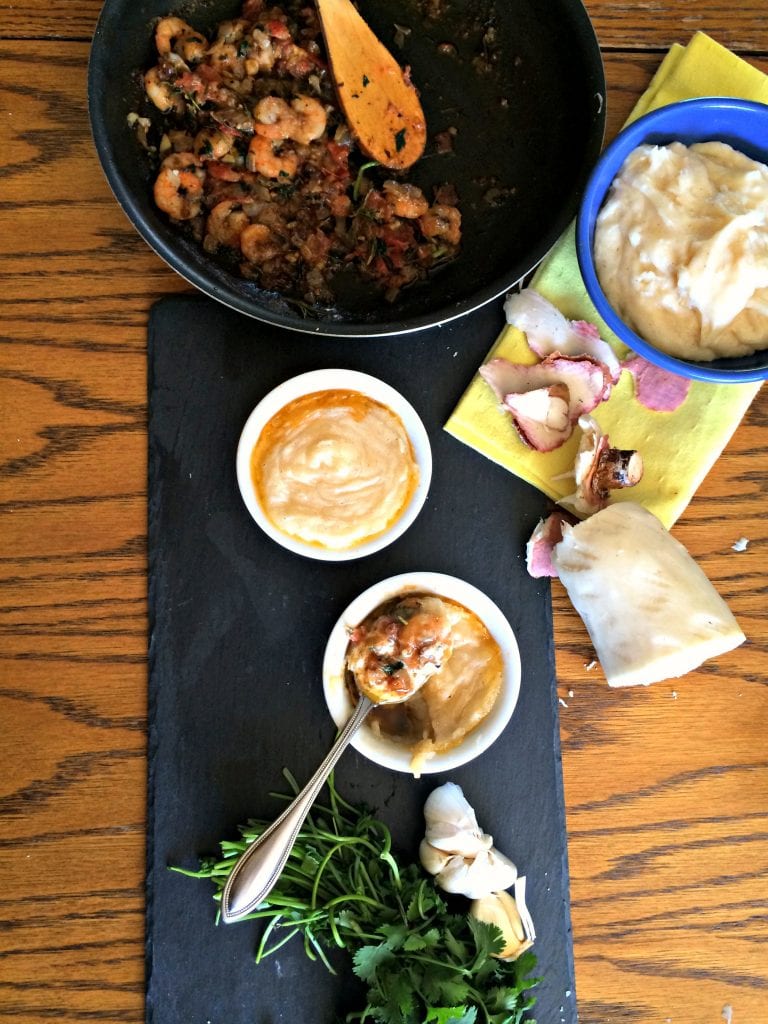 Like this recipe I have for today 🙂 May I present you with the fabulous:
Escondidinho de Camarão
Its name literally means something like hidden shrimp. Why are they hiding? I don't know, maybe because their team is not advancing in the World Cup? Maybe they just want to sleep. Well, they are tucked in a sheet of cheese gratin and yuca. Who wouldn't want to stay there forever?
I must warn you: this recipe has 3 different parts or layers that need to come together. You should REALLY wait until all 3 are done to taste it… ooor you can just grab a little bit of it without anyone noticing…I couldn't resist!
Either way: it is BEYOND amazing. I combined a traditional-looking recipe from Panela de Barros and a little bit of fun exciting flavors from this Chynthia Presser' recipe. But adding more garlic, olive oil and cheese to everything of course (my staples for a happy tummy 🙂 ).
We're down to the really crazy crucial games in the World Cup. Honduras is already out (but we scored a goal!) and every game feels like a death match. This is why you need this appetizer. To indulge in a yummy Brazilian recipe, yes, but because it has the power to revive you, regardless of the games' outcome.
Hey, and if you are living in the U.S. you know what's coming up? Fourth of July!! And this, out of all Brazilian recipes, is so awesome, it's like fireworks. If you really want to impress your guests, just say its portuguese name and listo!
Prep time: 20 min     Cook time: 60 min    Serve time: 1 h and 20 minutes
Ingredients
—-> The recipe steps are on the video I posted on top!
(to fit in 4-5 small oven-resistant ramekins)
Yuca paste
2 Tbsp unsalted butter
1 ½ pound (or 1 pound) yuca
1 Tbsp of European yogurt
Shrimp and veggie paste
3 tablespoons oil, for simmering (use 2 different times)
4 garlic cloves (2 for veggie paste, 2 for shrimp mix)
1/2 onion
1 tablespoon chili paste
2 sticks of fresh rosemary (or 2 teaspoons of it)
2 medium tomatoes, diced
250 g shrimp – cooked and cleaned (1 handful of cilantro)
4 tablespoons mascarpone cheese
May you all have a very jolly BBQ, Fourth of July celebration, family time, or just some World Cup fun times! 🙂
Related posts: