Long live chocobananos! ¡

Vivan los chocobananos

!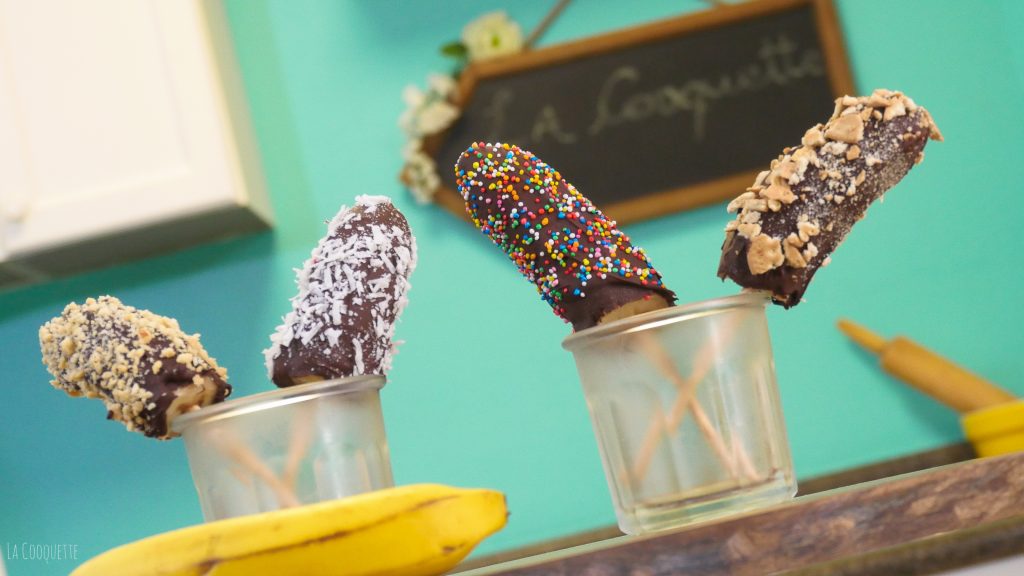 The what? Chocobananos are basically chocolate bananas, frozen, or they're also called chocolate covered banana pops. whichever way you know them, they're fun to make and make for the perfect summer snack!
I'm from Honduras and these are pretty much the staple summer treat (and year-long, since we don't vary seasons much); people from El Salvador have them too. Chocobananos are great child-pleasers, making them can be a fun activity to do if you have kids or if you wanna relive your childhood.
And one of the things why I like them so much is that you can either have chocobananos bare (just the chocolate) or decorate them with colorful and flavorful toppings: I used sprinkles, María cookies (galletas María – another Latino staple!), coconut flakes and crushed peanuts – the salty and sweet combo goes very well!
If you'd like to learn how I made these chocobananos, head over to my YouTube recipe video:
And also check out this other yummy and easy treat with bananas: Banana Sushi! I think my banana-shirt influence my love for easy treats like these.  
There are lots of different ways to enjoy the summertime and these chocobananos are one – a pack of flavor with the least possible effort!  Let me know in a comment what toppings would you use on yours! And now, go, go go! Get out!! Get some sun!! 🙂
Related posts: