Once upon a time, there was a little fried chocolate chicken restaurant…
WHAT?
Yes. As in:

CHOCOLATE

+ CHICKEN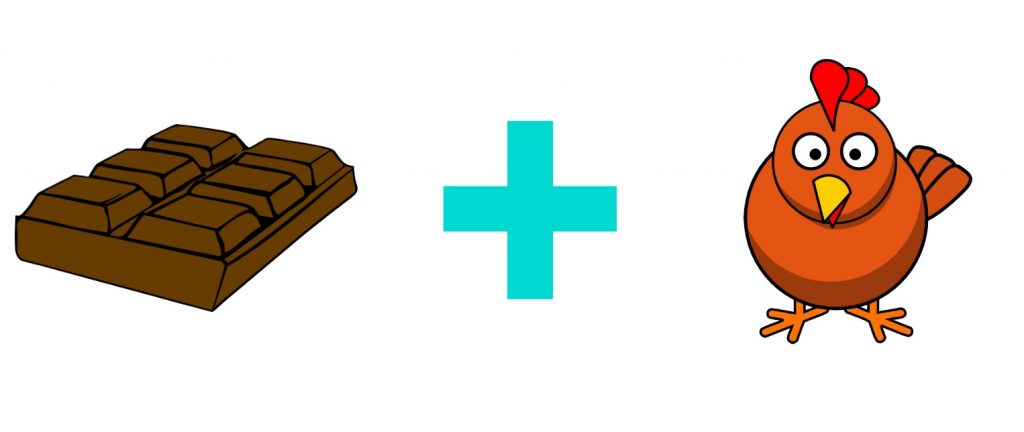 I went to the popular new "Choco Chicken" in LA the other night. I thought: "the creator of Umami Burger and 800 Degrees couldn't be wrong right? Well, he wasn't.
It was oh-so-good.
This out-of-the-ordinary experience inspired me to create something of the like, but with a twist of my own (hey, I wouldn't want his chocolate chicken to be overshadowed by my wonder, right?). I added coconut to the mix, to make things more… interesting. Not a euphemistic "interesting" but a yummy-so-yummy-interesting.

So there you have it: Chocolate + Coconut + Fried Chicken =
Choconut Chicken Strips!
I've been making some crazy mixes throughout my years. And, granted, many of these haven't turned out the way I wanted them… However you gotta trust me on this one.

Aaaand for all of those non-chocolate lovers (really?! that exists?!), or non-believers, I also made flavorful Coconut Chicken Strips.
The key thing to both is to brine them for at least a couple of hours, because it helps your tenders/fingers/nuggets remain juicy. 
I also used Coconut Milk and Coconut Flour but if you can't find those at your local supermarket, using regular milk and more panko instead of the flour is totally fine!
Prep time: 30 min     Cook time: 20-25 min    Serve time: 1h
Ingredients
(To make around 10-12 chicken tenders)
—-> The recipe steps are on the video I posted on top!
1 pound boneless, skinless chicken tenders or 3-4 boneless skinless chicken breasts, cut in slices.
Brine
3 cups of Coconut milk (1 ½ cup for each recipe)
3-5 cloves of garlic, minced
2 pinches of salt
For the choconut taste:
2 full tbsps cocoa powder
2 tsps of cayenne pepper
Dry Coatings
⅓ cup of panko crumbs
⅓ cup of flour
⅓ cup of shredded coconut
¼ cup of coconut flour (if you can find some, if not, that same amount of panko)
For the "Choconut" coating, just add to the original mix:
2 tbsps cocoa powder
2 tsps cayenne pepper
Dipping Sauces
For the Choconut Tenders:
3 tbsps creamy European yogurt (or any creamy, plain yogurt — not Greek!)
3 tbsps of ketchup
2 tsps honey
1 tsp of garlic powder
¼ tsp cayenne pepper
a pinch of salt
 For the Coconut Tenders:
1/4 cup of Dijon mustard
⅔ cup of honey
a pinch of curry
Utensils you might need:
Tongs
Resealable plastic bags
Dip in! And tell me what you thought about it  @LaCooquette 😉
Related posts: