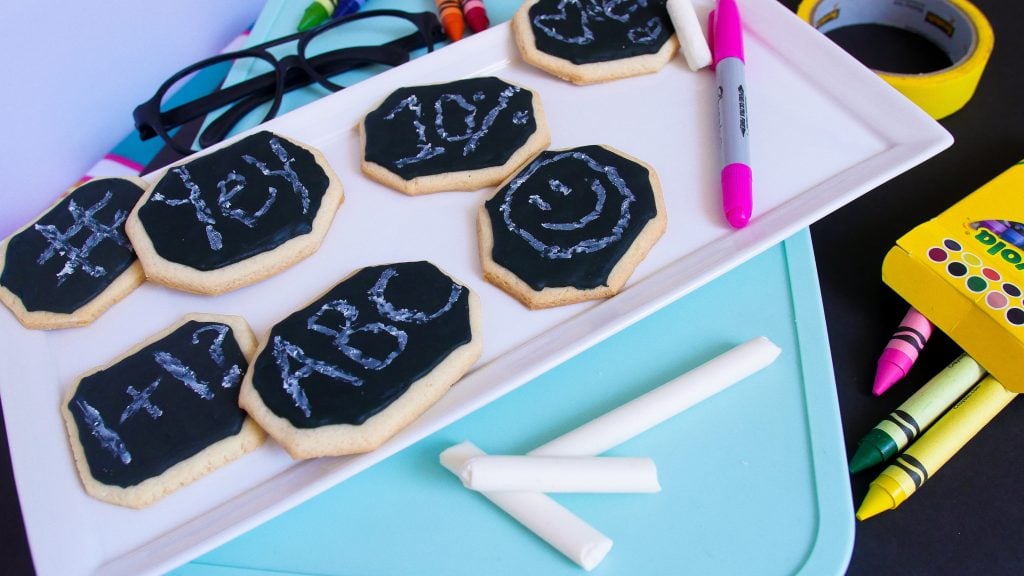 School is in full force now and you're probably already used to the routine, so how about these nice edible chalkboard cookies to add some fun to the lunchbox?
When I thought about making these cookies, I started reminiscing about my early school days. Even though my childhood isn't too far away, I was having a hard time remembering the key elements which made school so special for me. But then it hit me: I was always super excited about what came in my lunchbox! :p And even more whenever it was a special day because my mom would add candy or desserts and turned a boring lunch into something extraordinary.
That's why I thought about these cookies because they transform a disliked classroom object (who likes chalkboard, really?) into something yummy and cute for their school lunch. It's also a versatile recipe that's easy enough for even kids to undertake, and a treat that you could bring to PTA meetings or school events.
So drop that chalk and start making these! See the detailed instructions, as well as a school-yearbook-photo version of me, in the recipe video below:
I have to be honest, the chalkboard cookies are easy to make but the black royal icing part that serves as the "board writing space" takes a long time to dry – I recommend you make them the night before you'd like to show them off or over the weekend. Once made, the cookies last for about 3-4 days if stored in a tightly sealed bag or container.
Let me know what other fun and special ideas you like to add to your kids' lunchboxes! And happy baking!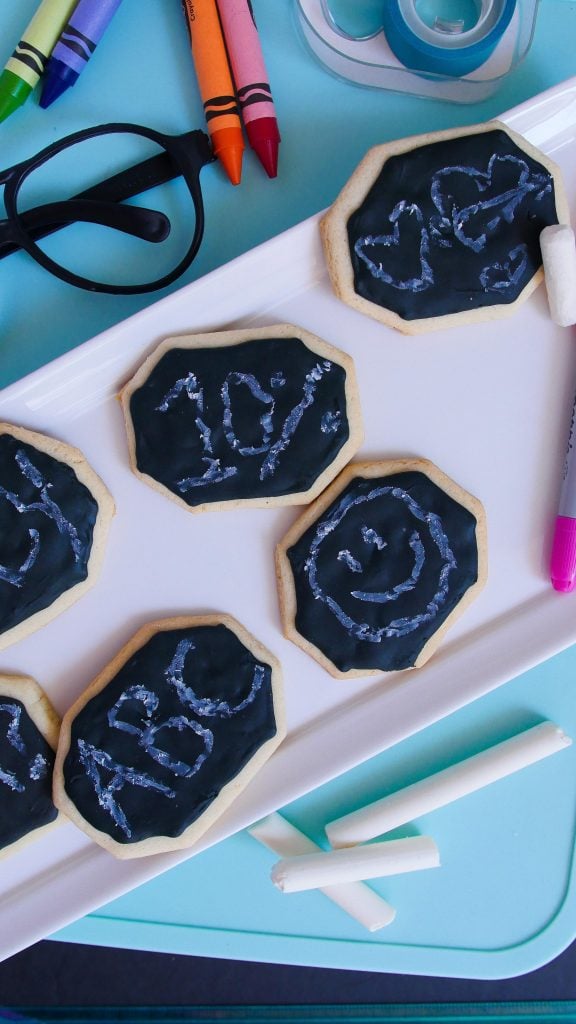 Edible Chalkboard Cookies recipe
Prep time:
30-40 min

   Cooking time:  

15 min

   Total time:

45-55 min
INGREDIENTS
115 grams of unsalted butter (1 stick), at room temperature

½ cup of white sugar

1 egg, at room temperature

1 tsp vanilla extract

1.5 cups of all-purpose flour

½ tsp baking powder

½ tsp salt

about 1 cup of bright white candy melts or white chocolate chips (for edible chalk)
ROYAL ICING
¾ Tbsp of meringue powder

2 cups of powdered sugar

1 y ½ tsp of cocoa powder

3 Tbs warm water + more later to achieve color flow icing

black gel food coloring (or powdered)
YOU WILL ALSO NEED
Related posts: