Is it weird that I adopt foreign holidays and make them my favorite ones?
If I share my joy and delicious goodies with others it can't be that bad right?
Right?
RIGHT?! 
Pleeease let me just have
THANKSGIVING

!!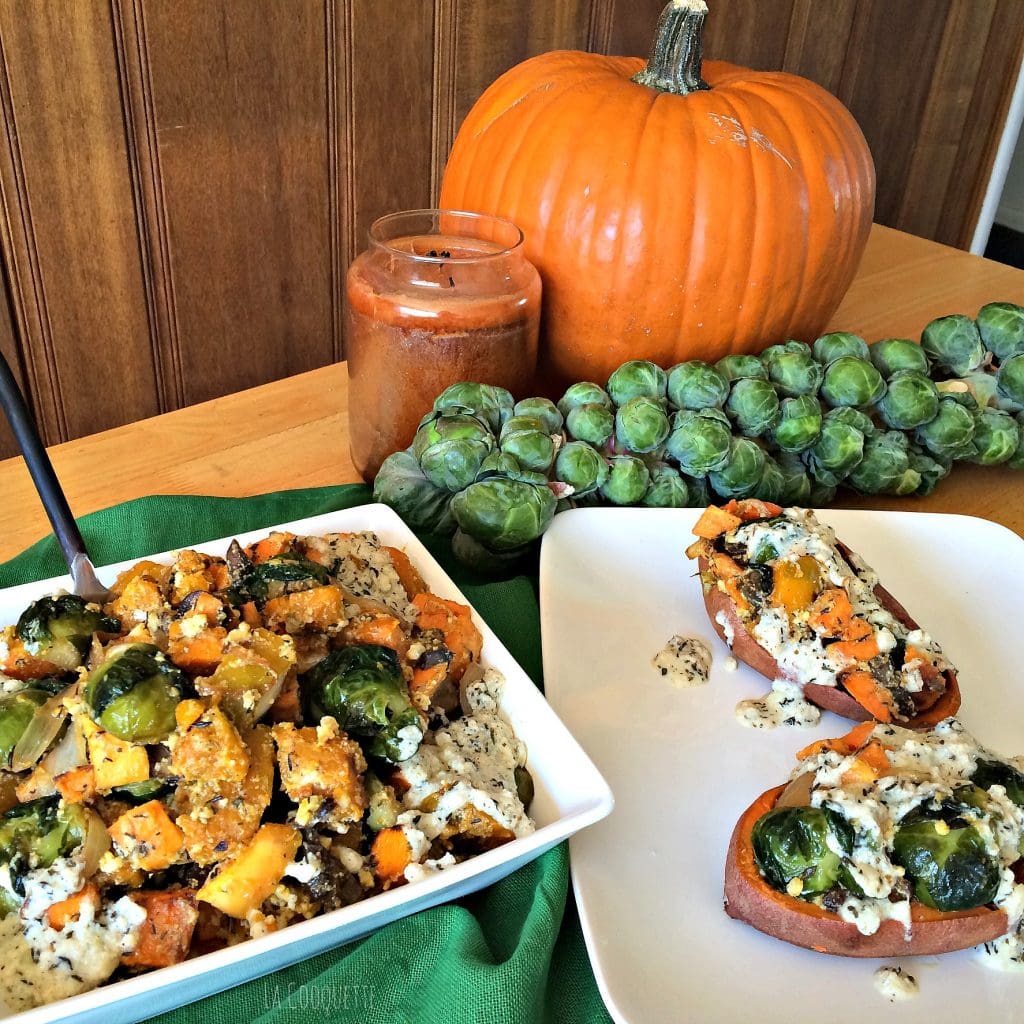 I can't remember the first time I celebrated Thanksgiving, but it probably was at an American home, with lots of dishes and lots of people.. and probably in New York, in the Fall, with the beautiful Manhattan skyline and sunset coming in while we starved ourselves before a copious amount of food, the same food that we would stuff our faces with, thanking God and everything that brought us there and made it possible.
Yes, I have very strong feelings and heartfelt memories (both in my mind and stomach) about this holiday. And nothing and no one is going to change that. Except of course, increase those feelings.
With things like these:
*Drool*
This is my baby. It is the result of hours of research around Thanksgiving sides (can it be called research if I enjoyed it so much it felt as if I were eating the dishes I was looking at?). That and a little unleashing of my inner cheese-spirit. Because this dish is not only the caramelized beautiful veggies (cremini mushrooms, onions and Brussels sprouts), nor only the roasted-then-sautéed kabocha + sweet potato base… this dish lives because it has its sauce.
I didn't know ricotta and truffled cheese could get along so well! And that they could bring others together into a magical experience of taste.
Ok. Let's stop day-drooling. Here's the recipe video for my Fall Harvest in Sweet Potato Skins experiment:
If you are one of those people that like simple things, you may just have caramelized Brussels sprouts — you may even go crazy and add some bacon bits to it. But I love not being simple, and recipes with long names, so these my friends is not your regular Thanksgiving side dish. It is a lot of them together in one! 
There are two serving options, as you can see: if you choose to go the way of sweet-potato skins, I'd recommend that you get reaaally big sweet potatoes. I started with medium-sized ones and couldn't feature 1 of them because it was too small (I still ate it, just in secret! shh!). 
So bowl it up, casserole it, either way I can assure you people will be talking about it ;).

What am I thankful for this year? 
I'm thankful for Thanksgiving. For being able to call my best friend my "fiancé". For my friends and family that put up with all this food-obsession gibberish. For my lovely and encouraging readers/viewers of course, and because this food blogging experience is growing into a bigger project. But most of all I'm thankful to be sharing goodness with others.
So share some goodness too! Tweet this out, pin it up, Snapchat it, Like it, etc. but above all: enjoy it!! 🙂
Happy

Thanksgiving

!!
Fall Veggies in Roasted Sweet Potato Skins
Prep time:
30 min

   Cooking time:  

60 min

   Total time:

90 min
Ingredients
Squash base
2 big sweet potatoes
3-4 medium-sized sweet potatoes, skinless, cut into squares, roasted
½ of a kabocha squash, roasted, skinless, cut into squares,
olive oil to roast and sautée 
Caramelized veggies
3 tbsps butter (you might need more if you separate your veggies in different pans)
1 cup of cremini mushrooms
18-20 brussels sprouts
½ white or sweet onion
Sauce
3 tbsps of butter
6 garlic heads, chopped
6 tablespoons ricotta
3 tablespoons truffled, goat cheese
⅓ cup of water
2 tsps thyme
2 tsps sage
⅛ tsp cardamom
1 tsp salt
Related posts: