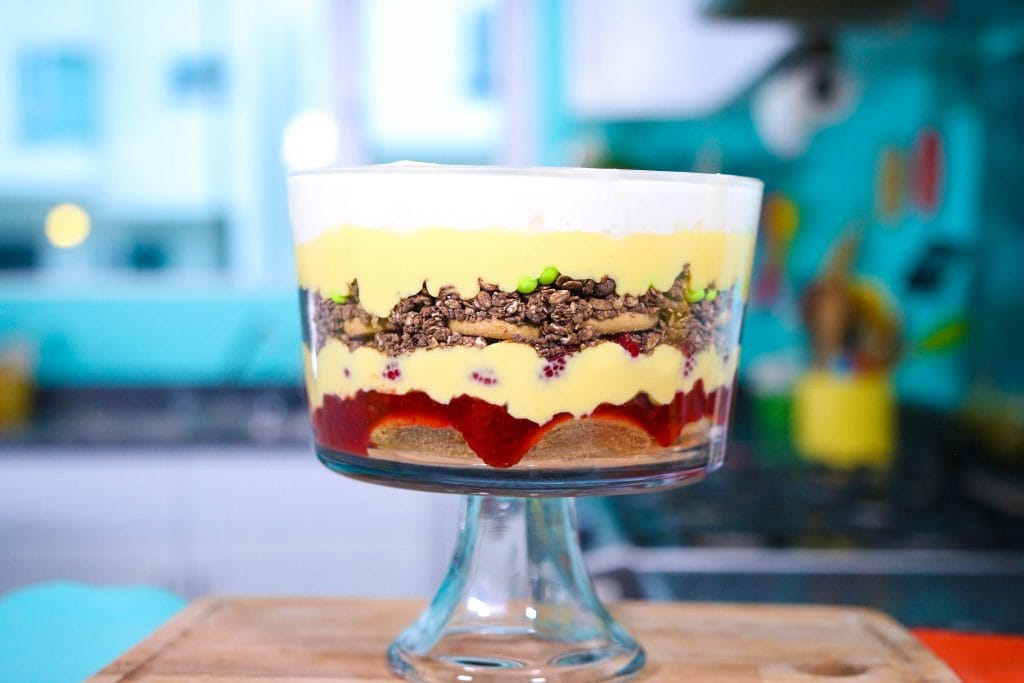 Any true Friends fan has seen the happy Thanksgiving episode where Rachel is in charge of making the dessert and she eagerly decides to make an English trifle.
It was the first time she was truly in charge of a key element in any Thanksgiving dinner and, even with her attention to detail, things didn't go exactly as planned. The problem? Two pages of her recipe book stick together: specifically, the English trifle recipe and a shepherd's pie recipe. The result? Rachel's trifle ended up being a crazy concoction of sweet layers of goodness…along with a layer of ground beef sautéed with peas and onions! I decided to make it!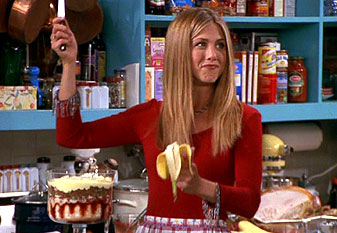 I had been browsing Thanksgiving recipes to make and for some reason this crazy trifle experiment came into my world. Needless to say, I started watching the Friends episode "The one where Ross got high" and loved the idea of Rachel's trifle so much that I had to recreate it!
It's the perfect Thanksgiving dessert, whether you are a huge Friends fan or not. But hey, no worries, I did the yucky version AND an edible one.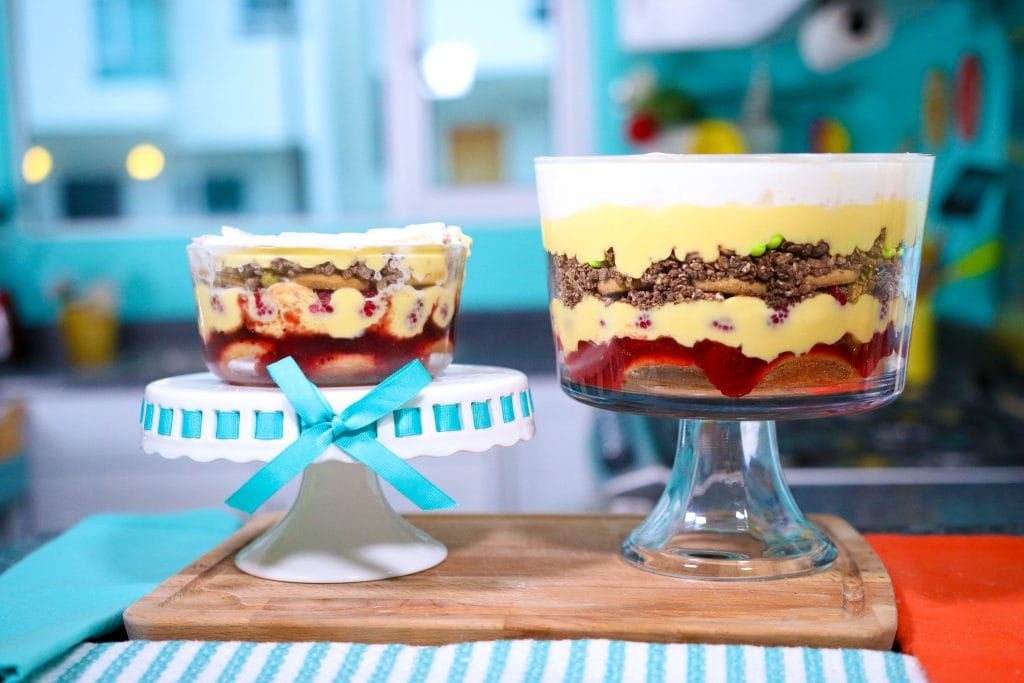 To end up with a version one could actually eat and enjoy, I included the exact layers used in the original trifle minus the savory one. This one I substituted it with granola and a chocolate-and-mint candy found in Mexico called Chocoretas. You can easily substitute the ground beef layer with things that look similar to it and go well with the rest of ingredients: granola, crushed brownies or crushed cookies and green sprinkles or chocolates!
And yes, the custard is homemade! It was my first time making custard and I kinda wanted it to have the consistency of crème pâtissière. It was so delectable I had a hard time trying not to eat it with a spoon while I was decorating the trifle.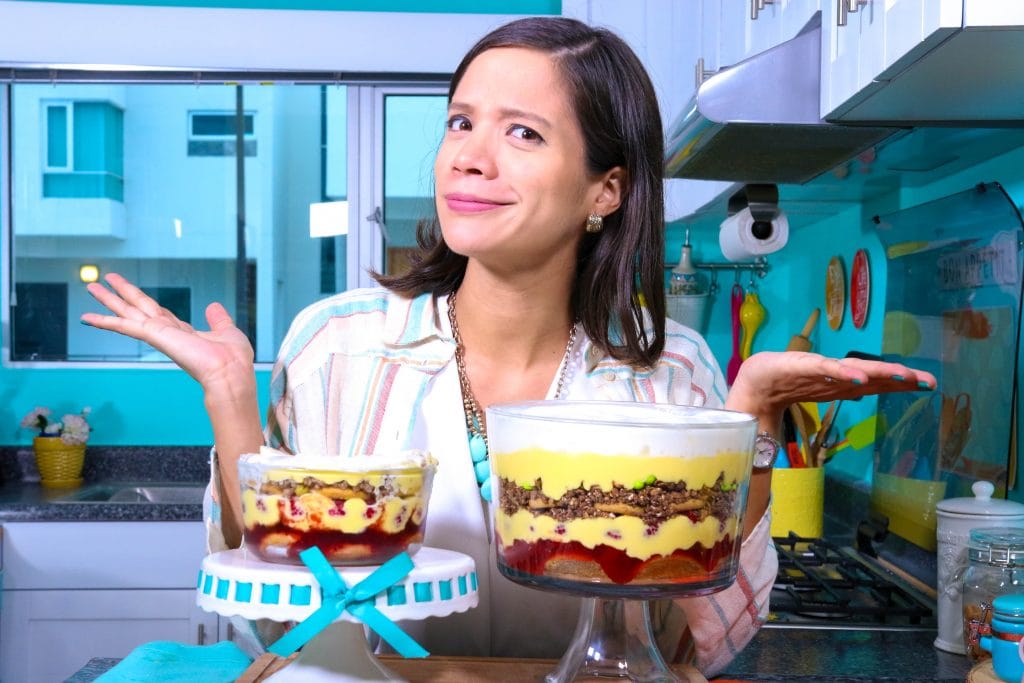 A great thing about this dessert is that, besides having a funny story to tell at the table, it's super easy to make – something very much needed in an already-tiring holiday season. Instead of spending hours making the perfect pie, why not try a no-bake Thanksgiving trifle?
You can watch the recipe steps in this Spanish video here or use the recipe down below.
Let me know if you try it and if you'd like me to recreate any other TV show recipes! And also:
HAPPY THANKSGIVING!
Happ Thanksgiving: Rachel's Trifle
Prep time:

30 min    

Cooking time:

  20 min*   

Total time:

30 min
*only if you make homemade custard
INGREDIENTS / LAYERS OF TRIFLE
Ladyfingers or any spongy, porous cookie (I used Polvorones)

2.5-3 cups of 300 grams of raspberry jam

250 grams of raspberries (about 2 cups)

1 1/2 cup of dark granola + mint/green sprinkles (substitute for the meat layer!)

about 1 cup of whipped cream (homemade – recipe below – or bought)

2 bananas, sliced
+ About 4 cups of custard:
6 yolks

¾ cup of white sugar

5 Tbsps of cornstarch

1 + ⅔ cup of whole milk

½ cup of heavy whipping cream

1 tsp of clear vanilla extract
Whipped cream:
½ cup of heavy whipping cream

1 + ½ tsp of clear vanilla extract

1 + ½ cup of powdered sugar
Directions (for custard)
Heat up heavy cream, vanilla and whole milk in a medium pot but and turn the fire off as soon as it starts boiling.
On the side, beat up the egg yolks with the sugar until light and dissolved. Then gradually add sifted cornstarch and beat until well mixed.
Temper the egg yolk mixture by adding a tablespoon at a time of the milk mixture, and mixing well. This will prevent your yolks from cooking. Once it reaches a similar temperature, mix everything together and cook it under medium-low heat for about 20 mins. Do not stop mixing! Your mixture will start to thicken and once it reaches the desired consistency turn off the stove.
Transfer your custard to a clean container and immediately cover it with plastic wrap, making sure that the plastic wrap touches the custard to prevent it from drying out.
Let it chill at room temperature and then  stick it in the fridge. Refrigerate for at least an hour before using!
Related posts: