Let me tell you about this fun thing that happened last weekend…
First of all, my friend's 8 year-old daughter is a genius. She single-handedly wrote, directed, produced AND edited a short film about mermaids. OK, it was actually the first episode in a webseries of mermaids (appropriately called "H20 Mermaids"), which makes the whole ordeal even more awesome.
Of course they hosted a premiere for it, and of course there was a kiddie-sized red carpet for kids to strut their stuff, and of course they wanted to offer their 40 guests a delicious evening. We figured they needed to offer something that went along with the amazing Southern California end-of-summer afternoon, something that everybody would enjoy and eat without a fuss, really good feeling food.
We thought about Chipotle, being oh-so-good and loving and just plain exquisite. But we were on a budget. Sooo… I had this crazy idea: why not HACK Chipotle's catering?
And that's exactly what we did. I put together a list of ingredients and food components from the many times I've eaten their delicious catering options, and decided I could show up at her house just a couple of hours before the show.
I learned a lot from this experience and if you're planning to host a small party, or just wanna are curious on how to hack Chipotle Catering, here are some tips:
Tips for How to Hack Chipotle's Catering
1. Make enough time: 2 hours is not enough to cook for 40 people. Even if you think you are just tossing out stuffings for a burrito. You need at least 3 hours, even 4 if you want to make it look spectacular.
*The food did look spectacular by the way, but we were behind schedule for some minutes –something the kids did not object to since they were too busy with their red carpet photoshoot.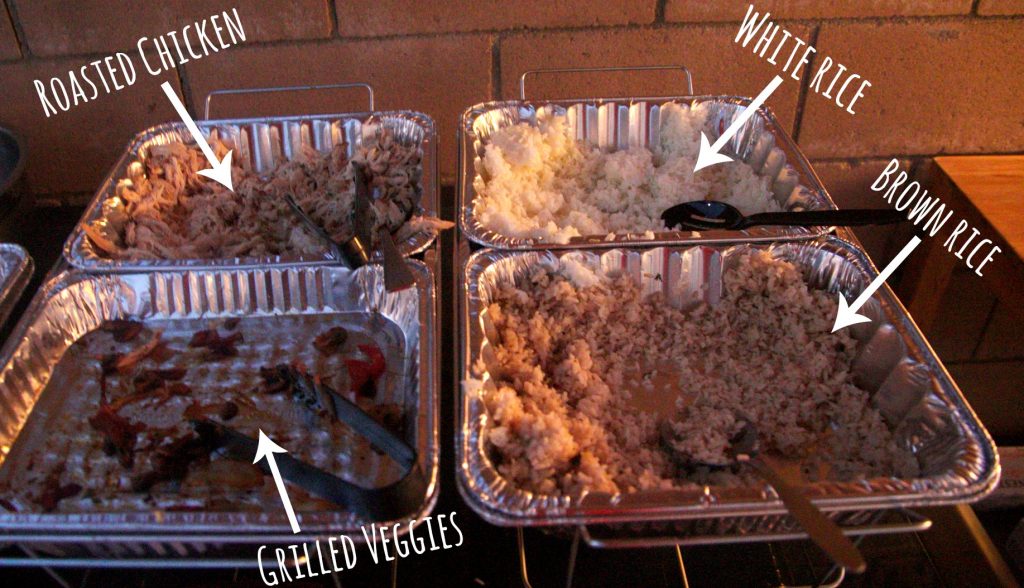 2. Containers matter: If you wanna offer your guests the ability of choosing from different sides and variations of "stuffing components", you should plan first where are you going to put all of this. Luckily we had big aluminum pans and some heaters to keep the food warm outside. But I will admit there were a couple of moments in which I didn't know where were we going to put the guacamole.
3. Prep the "cold" things first: If you are making burritos or tacos, and you offer different salsas with them, you should make the salsas first. If you start with the things that will be served cold and fresh, there should be enough time to prepare them and refrigerate them so they taste fresh (especially if you are in a hot place). The meat and everything else will taste even better if you make it last.
4. Warm tortillas can make a big difference: I always heat them up in a comal-like surface (skillets, planchas, etc) and then conserve their warmth by wrapping them on clean kitchen towels /mantelpieces or even just covering them with aluminum foil.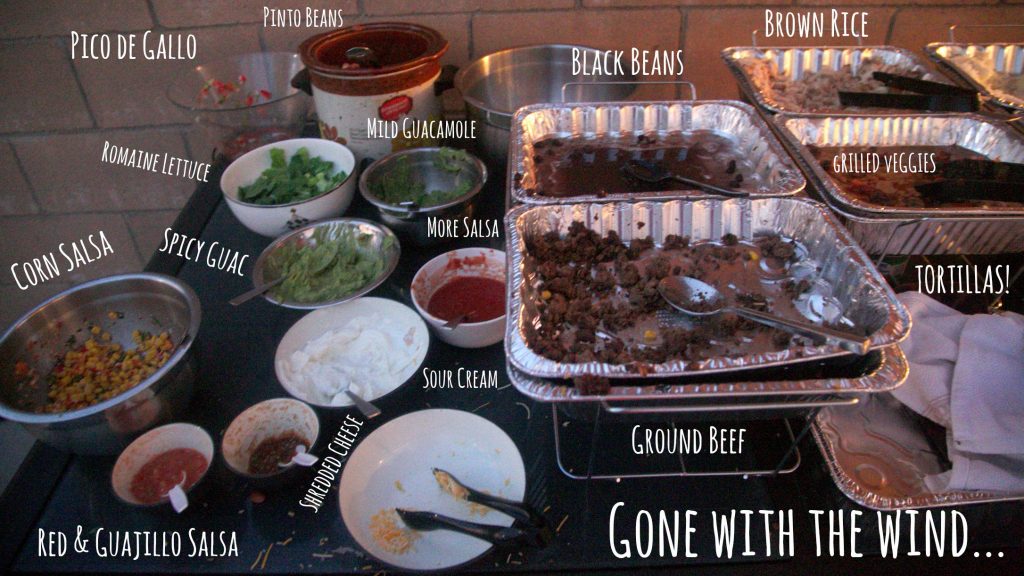 6. Never underestimate the power of choice: nowadays it's so easy to find different types of rice and tortillas, and you can seriously gain golden points by  offering people their favorite choice. We had hard-shelled tortillas, yellow corn tortillas and big burrito-like flour tortillas. We had pinto beans and black beans (I would've added more, if I had had time). We had 2 different guacamoles, 3 different salsas AND pico de gallo, 2 different types of rice. Believe me, when you put everything together, you'll end up with a nice catered-looking colorful table, and people will be all over it.
Just like they were with mine…

(my lovely friend Amy)
Actually that's the main reason why I can't show you a proper picture of how we set everything up at first, because the minute we placed things on the table… they were gone.
That's good props for the chef, right?
Overall the experience was FANTASTIC. Yes, I was in a rush because of my bad timing calculations, but the fact that the food had everybody smiling (and getting seconds, thirds… and more) was just so filling (in every sense of the word). It's always much more fun when I cook for someone else, and cooking for 40 was a challenge, but it was definitely rewarding.
What will I hack next?? mmmm!!!
Ingredients for How to Hack Chipotle's Catering "La Cooquette's way" *
(Catering for 40 people, half of them kids ages 4-12)
Things you prep in advance – Salsas family:
Red sauce: California chile, tomatoes, garlic, onion. Boiled and blended in the food processor.
Green sauce: tomatillos, onion, garlic and Serrano chile. Boiled and blended in the food processor.
Corn salsa: 3 cans of sweet corn (you can grill it too if you have time), juice of about 5 limes, salt and pepper, chile seeds (the one they give you with pizza!), chopped cilantro and shredded cotija cheese
Guacamole: I have to admit I had to buy this one (but only because I couldn't find nice avocadoes anywhere!). But I will share my recipe soon!
Pico de Gallo: 5 tomatoes, 2  red and green peppers, almost 1 white onion, cilantro, lime juice and salt and pepper.
Things you cook:
Roasted chicken: we got around 5 small-medium whole chicken and took away the skin and yucky parts, and shredded it. You could simmer it over a simple tomato sauce if you want it to have more flavor. Or just have it roasted, with salt, since you'll stuff it with so many things!
Ground beef: I used 85% lean ground beef, and just cooked it with chopped garlic and white onions (never fails)
Grilled Veggies: a mix of red onions, white onions, red and green peppers and tomatoes. You could also make it fancier and add things like zucchini, eggplant, and green onions. But this is filling! I sautée them with loads of garlic in olive oil and a a pinch of salt/pepper plus some drops of lemon.
Lime Brown Rice: for 4-5 cups: sautée red onions, garlic and rice first, add water and the juice of 1 lime to cook it and when it's almost done add another lime's juice and cilantro.
White rice: sautée white onions, garlic and rice first, add water and cook.
Things you buy:
Sour Cream
Mozzarella or Mexican blend cheese (for burritos)
Nachos (we got 2 big bags)
Hard-shelled tortillas : we bought like 30, not sure if we had leftovers!
Flour tortillas: we got 30 too, there were about 10 leftover
Corn tortillas: I took a package of 80 but only heated up about half. Half of that was leftover. So about 30 too? These are smaller, remember.
*I love Chipotle's catering by the way, but we couldn't go big this time. And no, this was not paid by them, IT'S JUST REALLY GOOD.
Related posts: