La Cooquette's team is going to their first food bloggers' conference…
AAAA! Wait… A what?
One would normally think this is only a made-up, seemingly "serious" event revolving around food. And if half of it were real, so what?
But hey, I'm not making this up and the International Food Bloggers Conference (IFBC 2014), organized by Foodista and Zephyr Adventures, has been happening for 4 years now. So yes, it IS a success and that's why they keep organizing it and making it better and better.
I am not only 499% excited about the fact that it is our first food blogger's conference but also because we're turning it into a whoooole adventurous experience. Yeah, we wanted to go all in. And by "all in" I mean "traveling more than 1,130 miles by car" (and that's not counting the return trip)
Behold, La Cooquette's #IFBCroadtrip!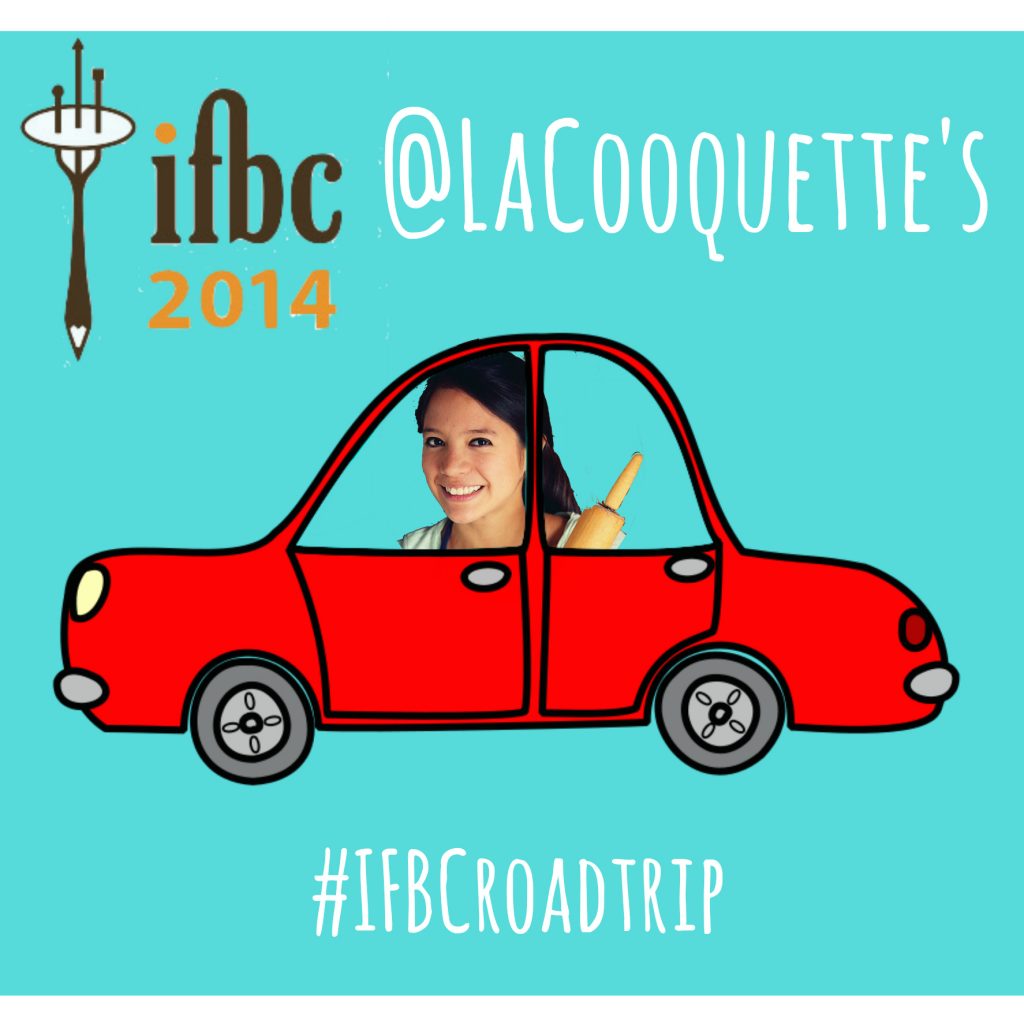 We are leaving the crazy Los Angeles city to stroll around the North of California, Oregon and then Washington until we reach the lovely coffee-infused Seattle.
We'll of course be stopping at a very food-must-needed stop: Portland.
We're also visiting The Goonies house along the way (in Astoria, OR). Yes, we definitely eat like Chunk all the time already, why not visit where the magic happened?
Ok, attention span of a fly.
Where was I?
Yes, a conference…
OUR FIRST FOOD BLOGGING CONFERENCE.
Of course, being an amateur on all of this, I've done crazy tons of research about IFBC 2014 and I've come up with very important resources that will (hopefully) keep me (and maybe you) standing:
1. A Twitter list including all food bloggers attending this year. Perfect to see who's who and who's going to your events! Eating and mingling, yes, that's what this conference is for! :).
2. A Pinterest board with most of the blogs of the attendees (some of them blogs, some of them cool recipes — great to share tips with others!).
3. A thorough read of a couple of good prepare-yo'self posts made by fellow attendees (Thank you so much Abbie&Erica and The Wanderlust Kitchen!)
4. A hashtag that tracks the adventures of a roadtrip: besides #IFBC check out #IFBCroadtrip. I'll be tweeting at least hourly on D-day (which is Thursday, Sept. 18th).
THINGS I'M EXCITED TO SEE/EXPERIENCE AT IFBC
Karen Page and Andrew Dornenburg, The Flavor Bible authors' keynote. Have you bought the book? If not, where have you been?! This is one of my favorites just because it totally goes with my "let's experiment" attitude when cooking but helps me make sense of things for others to enjoy!
Trying Noosa Yoghurt's Pumpkin flavor debuting only at IFBC 2014 for breakfast Saturday morning – Because anyone who knows me knows I'd eat pumpkin in any way, any time of day, all day. Forever.
The #IFBCCookingDemo with Thierry Rautureau , aka "The Chef in the Hat" – he's super funny and charming and I'm sure he'll make something delicious AND entertaining!
"Discovering the world of Wine with Bordeaux WInes' – need I say more?
Learning about recipe development with the Gluten-Free Girl, Shaun James Ahern. There are sooo many mixes and flavor combos I've made recently and I need to start sharing them with the world!
Getting our techie side ON: from video editing (which we already do but maybe learn something new), to SEO and Google+, to writing (with Joe Yunan)… there's a lot to work on "behind the scenes" to make La Cooquette skyrocket!
The freebies bags! We'll be getting things from Bigelow Tea (I bet it's tea!), Sahale Snacks (nut blends to die for), Food Should Taste Good chips, Rodelle baking treasures, among others.
The food, of course. All of it.
And, finally, just simply meeting with people like me who can't stop talking and thinking about food (my friends look at me weird sometimes after i get too over-excited about a dish).
(for the complete agenda, go here)
OTHER THINGS OUTSIDE IFBC THAT HAVE ME JUMPING UP AND DOWN
Seattle: first time ever in the city of coffee. Or at least that's how I see it in my dreams" streams of hot and cold coffee, coffee trees and street lamps. No? well, I'm sure at least it smells like that!
Portland: we're stopping there the night before. Again, never been and will wander around trying not to get too lost.. ok, maybe just a little.
-Sacramento, CA:  even though City by the Bay and the Hollywood stars usually outshine this state capital, it'll surely provide us with a delicious diner breakfast as our first stop!
– Klamath Falls: We have no idea what will we see here, but it sounded like a nice stop between LA and Portland. This is the only one we've planned so far.. the others will come, adventure mode!
THINGS I'M WORRIED ABOUT
1. Running out of food? Is that really going to happen? In Seattle? At a FOOD blogger's conference? Nah..
2. Music/games to play along the way: if you know about a cool app or ways to keep the La Cooquette team happy for +18hours they will spend in a red VW Beetle…do tell!
3. Running out of battery on our phones/camera. So many things to document!
Well, as you can see, the good things beat the worrying ones by a lot. And maybe my worries are coming out of pure travel nerves. Does anybody else get them? Like you feel you gotta be on top and you are always forgetting something-even if it's an imaginary something? Oh boy…as long as I have my hunger (which I will), I'll be ok 🙂
FOLLOW IFBC THROUGH LA COOQUETTE'S LENS:
Be sure to check our fun shenanigans along the road with the #IFBCroadtrip hashtag and following on @LaCooquette on Twitter.
I'll also be sharing in these channels:
CAN'T WAIT.
See you in Seattle (or online!)
Related posts: