This shop has been compensated by Collective Bias and its advertiser. All opinions are mine alone. #SpookySnacks#CollectiveBias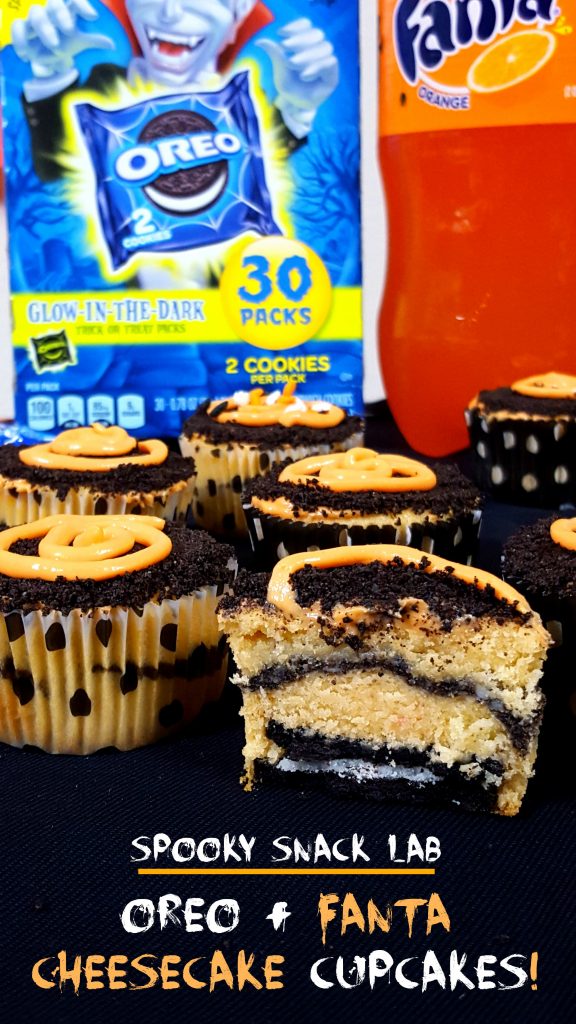 Is it me or has Halloween started really early this year? For the past month I've been seeing decorations, costumes and spooky snacks wherever I go. Not that I'm complaining, I LOVE creepy and fun creative ideas! Which is also why I got excited when I started brainstorming for a fun mix between one of my staple snacks (OREOs) and a delicious fizzy drink (Fanta's orange soda).
It's amazing how many cool things can arise when ideating recipes haha like, did you know you could bake cakes with soda without having to use eggs or milk? I knew about including soda in several dishes and some desserts, but this was a very fun discovery! In the end, that gave way to imagining what the perfect cake mix with OREO and Fanta's orange soda would include – of course: cheesecake!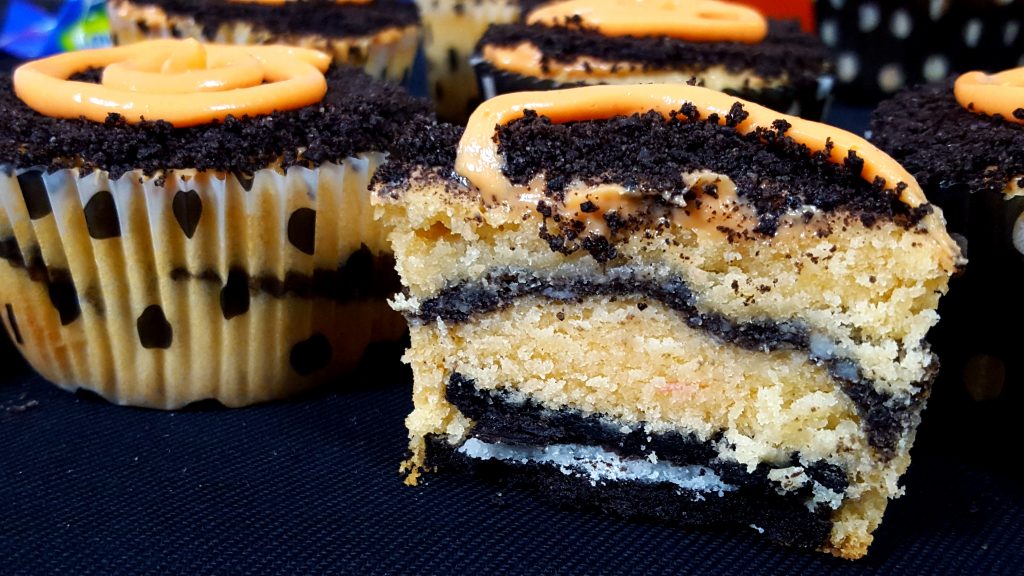 And what better way to have a really cool treat to offer to children in Halloween than to have them on the go? This is what inspired my OREO and Fanta Halloween Cheesecake Cupcakes!
If you've tried an OREO cheesecake, you know there's nothing in the world like it. Yet giving Fanta a chance to be featured with this deliciousness made it even better! The complementing orangey tones with the chocolate goodness of OREOs in one-portion treats made this my spooky snack of choice!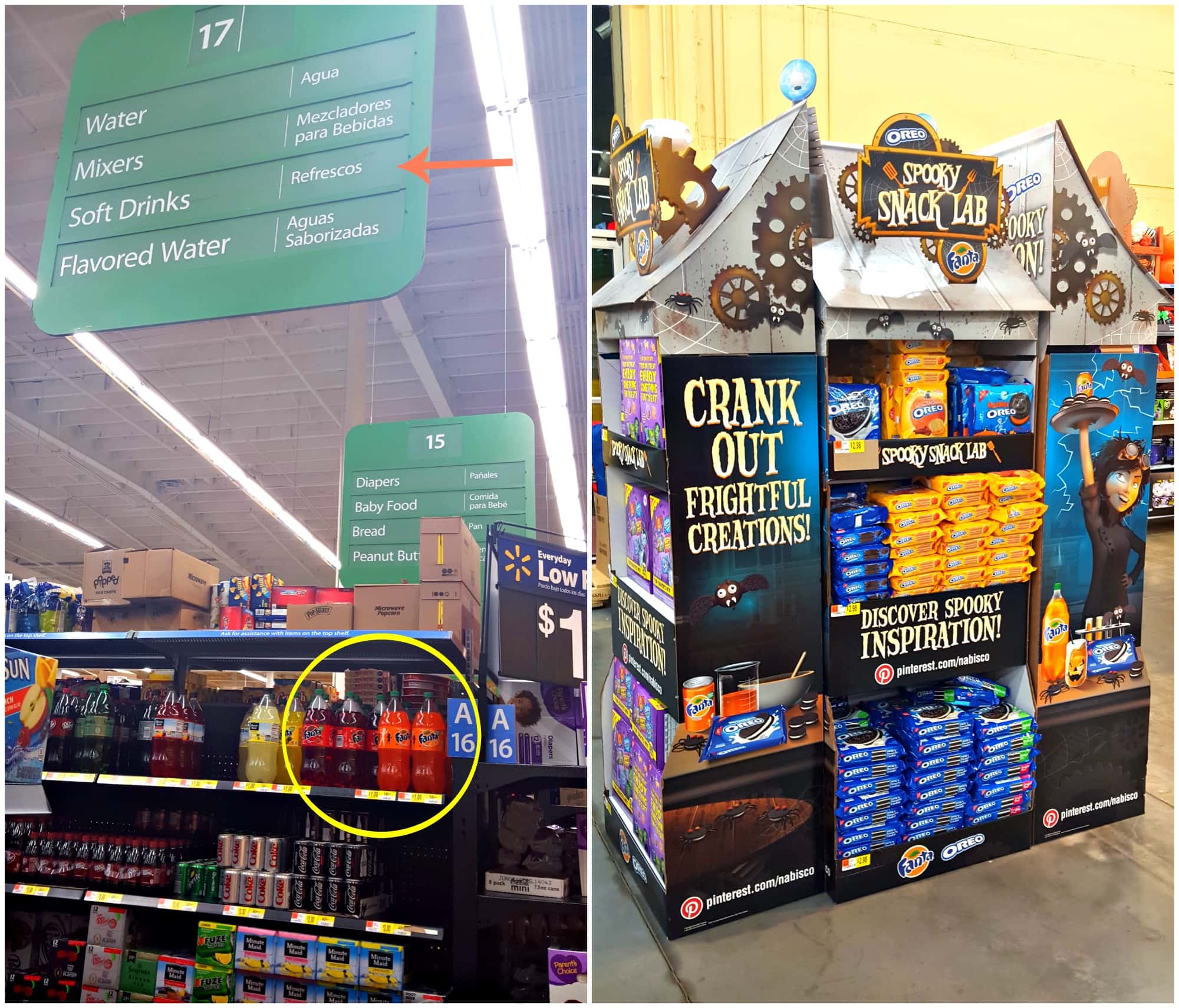 In need to pack up for my spooky experiment, I went to Walmart and was thrilled to find my powerful ingredients very easily! The Spooky Snacks even have their own fun display and guess what.. the OREO packages were glow-in-the-dark! Great to have a lights out OREO party!
The best part about creating this treat was all the layers of fun – in case you haven't read the recipe yet (at the end of this post!), I included a hidden OREO in all of the cupcakes! I gave a couple of cupcakes to a friend over the weekend and that was one of the things that made it special for her! See? It's in the details! 😉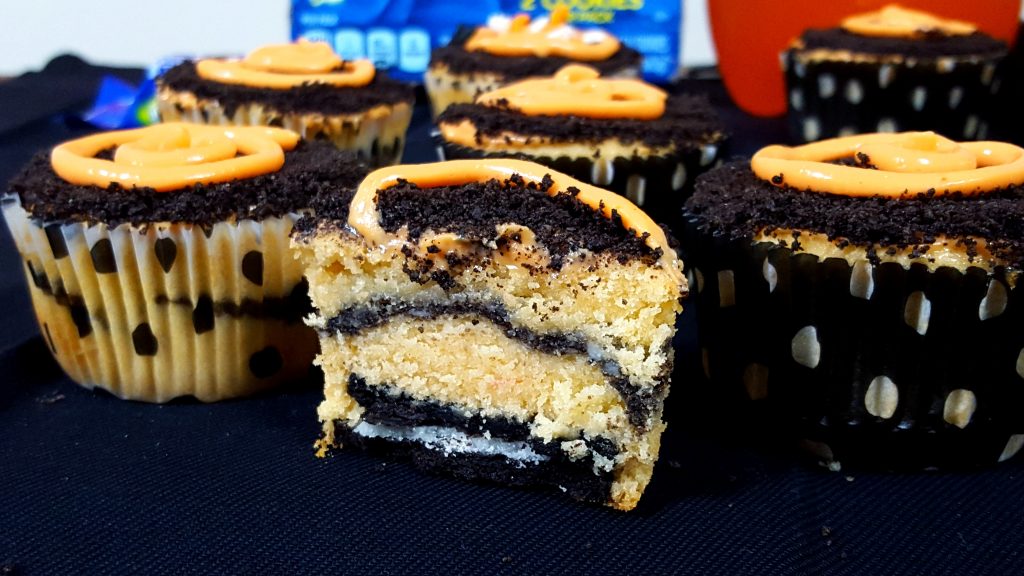 Besides the hidden OREO and cheesecake parts, I also added a spooky element: worms! Of course, frosting worm spirals on top of yummy OREO dirt – but you can decorate them whichever way you like, let your imagination fly like a vampire bat! 😛
Hope you have fun this Halloween, whether you are dressing up, decorating or just plain watching scary movies – you should definitely try experimenting with these two flavors! If you'd like more ideas, foodie and host extraordinaire Evette Rios created many Walmart-exclusive recipes for you to try. Just check out the Spooky Snack Lab webpage for lots of inspiration and her fun videos! Let me know which one was your favorite!


OREO and Fanta Halloween Cheesecake Cupcakes 
Prep time: 20 min    Cooking time:  20 min    Total time: 40min
Ingredients

(to make about 20 cupcakes)
½ cup butter

1 cup of sugar

1 and ½ cups of all-purpose flour

¾ cup Fanta orange soda

2 eggs

1 tsp vanilla extract

1 pinch of salt

10-12 pulverized OREO cookies

20 full OREO cookies (as many as the number of cupcakes you are making)
For cream cheese filling:
6 ounces cream cheese, room temperature

1/4 cup granulated sugar

1 large egg

1/8 teaspoon salt

⅓ cup of crushed OREO cookies
For the frosting:
½ cup of cream cheese

1 tsp vanilla extract 

1 cup of powdered sugar

orange food coloring
Directions
Preheat your oven to 325 degrees F. Make sure you've prepped a cupcake pan with cupcake liners too.
First, we'll start with the Fanta orange cake layer. For this you'll cream butter and sugar for about 3 minutes on medium speed of your electric mixer until it's all well-creamed.
Add 2  eggs, one at a time and blend well. Include a teaspoon of vanilla as well.
Now alternate between adding the flour and the Fanta; mix, and set aside.
Make now the cheesecake layer by beating cream cheese, sugar, the remaining egg and salt in a small bowl. Once it's all well-mixed, you can add in your OREO crumbles (and refrain from eating this yummy mix!).
Start layering up your cupcakes by placing first an OREO cookie at the bottom. Pour in the Fanta orange cake mix to about 1/3 of each liner. Add then a dollop (about a teaspoon) of the OREO cheesecake mixture. Pour more of the Fanta orange cake mix on top to cover the cheesecake mix – be careful not to fill your cupcake liners too much!
Bake at 325 degrees for about 20 mins or until they're well cooked. Let them cool after you take them out before you add the frosting.
To make the frosting, beat cream cheese with the teaspoon of vanilla on high speed and gradually add your powdered sugar until your frosting is fluffy and sturdy. Add orange food coloring.
Decorate the cupcakes by adding a thin layer of frosting and then about a teaspoon of crushed OREO cookies on top – these simulate the dirt. Feel free to decorate on top of the crushed OREO cookies with worm-like figurines utilizing your orange frosting and ENJOY! 🙂
Related posts: