Pumpkin Spice Lattes are such addictive drinks… But what if you could EAT a Pumpkin Spice Latte? As soon as the PSL announcements started rolling out in late August, a.k.a. "the beginning of Fall" for some, I knew I wanted to try making my own.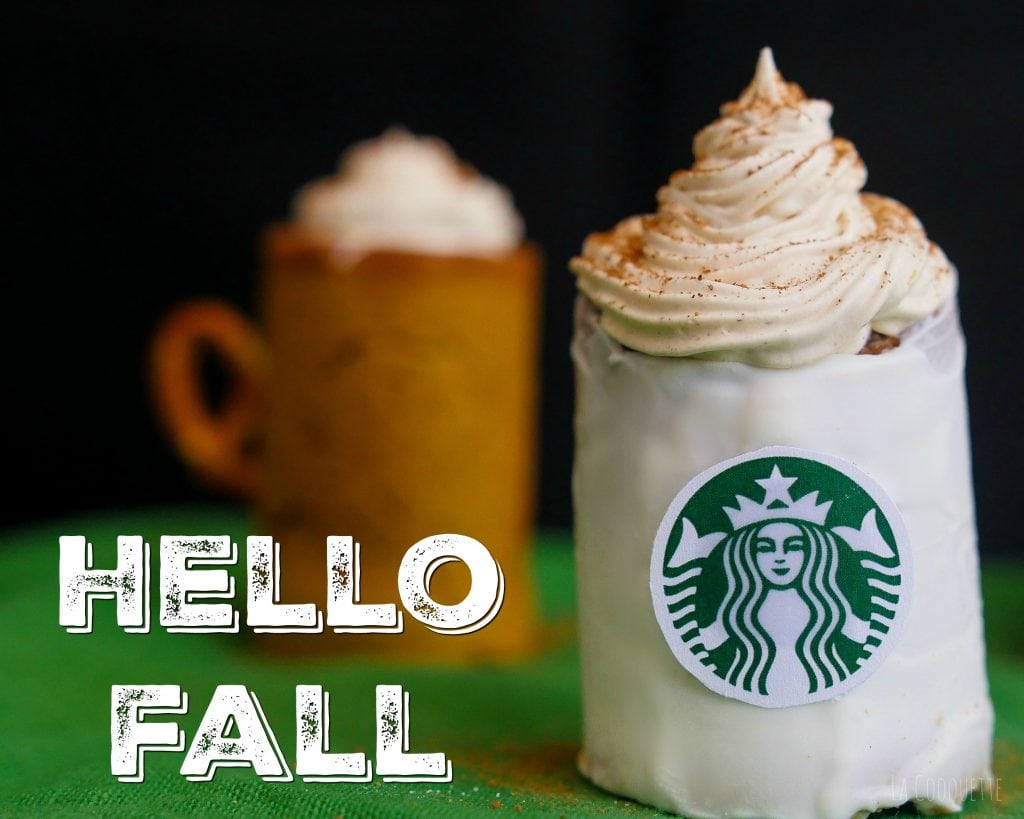 But you know me, I like doing things differently and these cute little Edible Pumpkin Spice Latte cups came to mind! I've always been a fan of this autumnal concoction of pumpkin – yes, even when it wasn't made with real pumpkin.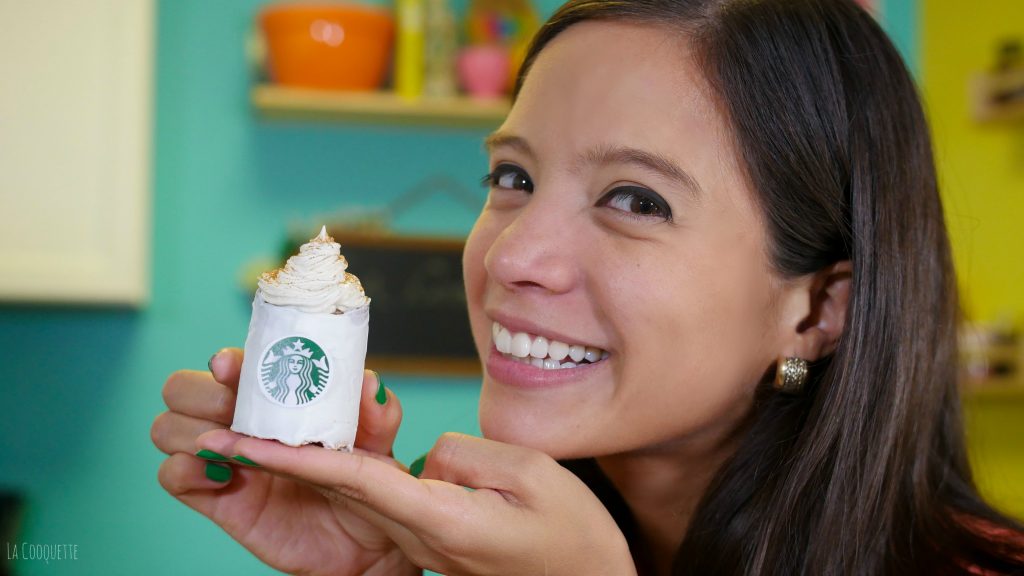 And remember those cookie and milk cups Dominique Ansel made famous? Well, these edible PSL cups were somewhat inspired on them! I found this cool shot glass mold online and it turned out perfect for my experiment.
At first, I didn't know how the cups would cook as firm as I wanted them to be and remain compact without breaking when getting them out of the mold. I learned that the usual pumpkin cookies turn out to be "cakey" because of the added moisture there is in canned pumpkin. If it weren't for Sally from SallysBakingAddiction, I wouldn't have perfect these cups! She used a recipe that didn't have an egg, which makes these cups chewy, not cakey, and eggless, perfect for those who take them out of their diet.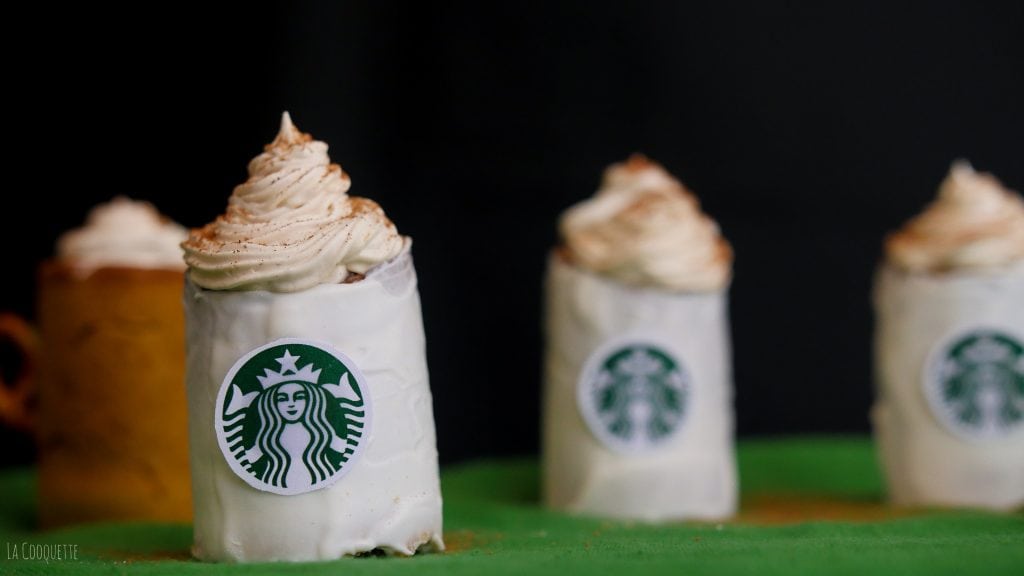 It took me about 4-5 tests and a lot of patience to get the right consistency, but believe me these are worth it! These edible cups are like Pumpkin Spice Latte x 3: they have a pumpkin spice essence in the cups, a delectable pumpkin spice latte mousse, and, if you decorate their outside with white chocolate, they resemble a Starbucks cup!
Hope you have fun making these and decorating them as you please – best part, nothing goes to waste! Have a sweet Fall season!
Edible Pumpkin Spice Latte Cups
Prep time:
25 min

   Cooking time:  

40 min – 1 h

   Total time:

1:30 h

PUMPKIN CUPS
– 115 grams. or ½ cup of unsalted butter, melted

– ¼ cup of brown sugar

– 1 + ½  cup of flour

– 7-8 tbsps. of canned pumpkin

– 2 tsps. of pumpkin spice

– 1 tsp of vanilla

– ¼ tsp of baking powder

– ¼ tsp of baking soda

– ¼ tsp of salt
MOUSSE   *remember to make it in a chilled bowl*
– 1 tbsp of whipping cream, warm, to dissolve the coffee

– 1 tbsp of instant coffee / espresso

– 1 cup of whipping cream, chilled

– 1 tsp. Of vanilla

– ⅓ cup of condensed milk, chilled

– 2 tsps. Of pumpkin spice

– 2-3 tbsps of pumpkin spice syrup
PUMPKIN SPICE SYRUP
– 1 cup of canned pumpkin

– ½ cup of brown sugar

– ¼ cup of water

– 1 tsp. Of vanilla

– 1 tbp of pumpkin spice
DIRECTIONS
For the batter: beat melted butter and brown sugar in a medium bowl. Add then vanilla, canned pumpkin, and a couple of teaspoons of pumpkin spice (this is basically cinnamon, ginger, nutmeg and ground clove). Mix well and add baking powder, baking soda and salt. Gradually add the flour and mix well – dough should feel like cookie dough.

Prep silicone mold by spraying it a bit with cooking spray. Add dough to the mold with the help of a pastry bag, filling them all the way to the top and making sure you don't leave air pockets. Pat the dough with your fingers to make sure it's all together.  

Stick tray inside the oven. Let them cook thoroughly for about 40mins to an hour.

In the meantime, prepare the pumpkin syrup and the mousse. For the pumpkin syrup, combine brown sugar, pumpkin puree, water, vanilla, pumpkin spice in a small pot. Let it simmer for about 10 mins. Transfer to a container and let it cool.

For the mousse: combine espresso/coffee in a warm small bit of whipping cream. Let it cool in the freezer for about 1 min. Add this and remaining whipping cream to a bowl, and whipped till you reach high peaks. Add the vanilla and chilled sweet condensed milk, and beat some more. Fold in the bit of cooled pumpkin syrup and more pumpkin spice. Let the mousse chill while you take out the cups.

Take the mold out of the oven and let it cool for about 20 minutes before you take out the cups. To make this process easier, release the sides of each cup by gently pressing with fingers.

Once released, you can decorate each cup in two ways. The easiest one is to just break a pretzel in two and use half of it as the handle of the cup. You can also make it look like a Starbucks cup and "paint" it white using melted white candy melts. Melt a handful of them with a bit of coconut oil and cover the sides of the cups. Let them dry in the fridge for about 2 mins. I also cut out small Starbucks logos and pasted them with the same "white paint".

Finally, fill your cups with pumpkin spice mousse, using a pastry bag and decorating with a whipped cream swirl at top. Sprinkle some more pumpkin spice and that's it! Enjoy!
Pin it for later!
Related posts: