Whoever came up with "October is Pasta Month" should be given a medal of high recognition. Or a slap. That's because I haven't been able to go a day without looking at carb-loving, carb-filling pasta recipes!
So, naturally, I found a pasta cookbook. And made homemade pasta. Because duh, what else do you do in October – Pasta Month? Haha just kidding: I admit I get a bit carried away by made-up holidays, but at the same time I can't help but think: if it make you do things like these:
….It can hurt, right? 😛
I wanted to end this pasta-loving month with a major recipe, making filled pasta for the first time!
Here are my pasta-making tales alongside "Flour + Water: Pasta", by Thomas McNaughton.
The first thing I noticed about "Flour + Water: Pasta" was its cover. I mean, how could you resist opening up a book that looks this beautiful, with so many pasta types and colors :O!
I must say that the rest of the pages did not disappoint at all.
The book is divided into 3 parts: the first tells chef Thomas McNaughton's story, of how his luck changed from staying in lovely Bologna, Italy to help launch and lead this new restaurant by the same name (located in San Francisco and doing very well!). After that, he goes over the basics of pasta making which, for a newbie like me, was as if someone was preaching me a whole new religion. WOW. So much attention to detail, perfected technique. I trusted him, and thanks to him I trusted myself a bit more.
Finally there are the recipes.
So many

BEAUTIFUL

recipes.
I mean this not only because of the many pictures it has of them. Or because they are categorized according to season and make the best of every produce/ seasonal tastes. But also because they had super italian-loving names like "Cappellaci dei Briganti with Quail and Green Coriander Gremolata"  and " or even the staple "Tagliatelle Bolognese" .. Is your mouth drooling yet?
Well it will now, after I show you the one I made:
Pumpkin Tortelloni with Sage and Pumpkin Seeds
Tortelloni's are tortellini's big brothers. I think they are easier to make than "-inis", since they're bigger in size… although it's the first time I make 'em. Thanks to Tom (yeah, my new friend Tom!).
That is… if you had already made pasta at least once in your life (like me!) or you are really really determined to make it. Although I knew that the recipe for the ravioli dough (or as Tom calls it "Rav Dough") and the perfect rolling for a filled pasta were no kids play, I entered this quest with the best dispositions and continued them even after having to repeat my layers of pasta dough on the machine. You can see my Rav Dough first-time encounter (and check out the recipe!) in this other post (cause it's a beast by itself – a delicious beast!).
Some things to keep in mind when thinking about getting this book or making homemade pasta:
–If you are really into pasta and wanna make the most of it, you definitely need a pasta roller. Luckily I had my pretty Kitchen Aid set of 3 pasta roller attachments – I only used the Pasta Roller one.
–If at first you don't succeed, try again! The great thing with pasta dough, if you make a good dough, is that you can knead it and roll it a bunch of times. Sure, some doughs are drier than others and you might need to moisten it up a bit, but I fixed many mistakes by kneading and kneading, and rolling and rolling… haha quoting McNaughton:
"this is how Italian grandmas get their fat wrists."
So worth it!
-Patience is a virtue.. and you'll need plenty. Homemade pasta takes time. A lot of time. I made my dough the day before and took me about 1 hour and then rolling out and creating the different tortelloni took me about 1 ½ hour – BEFORE cooking the pasta and only making half of the recipe! So yeah, make sure you save at least 2 ½ hours of your day if you're venturing in pasta-making. Spaghetti mike take less (since you don't have to stuff it), but you also need to let the dough rest, etc.
Overall though, it was a very pleasant experience. Making the little pumpkin-filled cocoons of pasta and seeing them all together made we not wanna eat them!
Oh boy, but I DID EAT THEM. And they were FANTASTIC. The silkiness of the sauce against the soft walls of the pasta slid gracefully in my mouth. The creaminess of the filling was so rich that every bite was a mouthful. The pairing of the sage, the butter and the pumpkin gave reminded me of nuts roasting on a Fall-colored forest. Yes, it was a daydream! Even though mine didn't look as pretty as the ones in the picture the flavor was one of the best I've tried in pasta. And I was even more proud knowing that I'd done it all myself.. well, with the help of my friend Mr. Flour +Water.
Hope you enjoy it too!
RECIPE:
Pumpkin Tortelloni with Sage and Pumpkin Seeds*
(serves 4)
Original recipe by Chef Thomas McNaughton (from the "Flour + Water: Pasta" cookbook, pg. 114, recipe transcript courtesy of Ten Speed Press )
*Notes:
I had to twitch the recipe a little bit because I was lacking some of the ingredients, but I can say it came out super flavorful and amazing at the end!
The ingredients I switched are marked with an *
My comments in italics
"Pumpkin is the most classic option, but butternut squash will work well if you can't find a fancypants heirloom pumpkin."
Equipment
Blender + Pasta Machine/roller + Rolling Pin
Straight wheel cutter + Baking sheets
Piping bag (optional) + Spray bottle (I didn't have one, so I just used my hands to keep the dough moist)
Filling
6 tablespoons butter (85 grams)
2 ¼ pounds Cinderella pumpkin (1 kg), halved, seeded, and stringy fibers removed (seeds reserved) – *I didn't have that pumpkin so I just used organic canned pumpkin – 2 cups
Pure olive oil – I used extra virgin olive oil
Kosher salt
¼ teaspoon ground cinnamon –  I added a bit more, I like the extra kick of flavor
¼ teaspoon ground nutmeg  – I added a bit more, I like the extra kick of flavor
1 tablespoon apple cider vinegar
2 ½ cups freshly grated Parmigiano-Reggiano cheese (185 grams) – *I used already-grated one
1 tablespoon of honey (optional) – I did use it!
Tortelloni
Semolina flour (to assemble the tortelloni)
To Finish
3 tablespoons pumpkin seeds – *agh! couldn't find some, I used sunflower seeds to decorate and the mix actually tasted really good!
½ teaspoon pure olive oil
Kosher salt
5 tablespoons unsalted butter (75 grams)
6 fresh sage leaves, cut in chiffonade – *I used dried sage
Freshly grated Parmigiano-Reggiano cheese – *I used already-grated one
Preparation
Heat your oven to 350°F. Line a baking sheet with parchment paper.
Make brown butter by heating a sauté pan over medium heat and adding the butter. Once it's melted and the foam has subsided, cook, stirring constantly, until it turns a light tan color and has a nutty aroma. Watch it so it doesn't burn! It happened to me and had to re-do it! Remove from the heat and set aside.
To make the filling, drizzle the pumpkin with olive oil, season with the measured salt, and place cut-side down on the prepared baking sheet. Roast until fully tender when pierced with a knife, 45 to 60 minutes. It should be soft to the touch but not mushy or collapsed. When it's cool enough to handle, scoop out the flesh and discard the rind. Add to the jar of a blender with the brown butter, cinnamon, nutmeg, and vinegar. Purée until smooth and season with salt to taste. There should be a nice balance of sweetness and acidity; add 1 tablespoon of honey if necessary to augment the pumpkin's natural sugars. Spoon the purée into a bowl and fold in the Parmigiano-Reggiano. You should have about 3 1/2 cups filling. Cool in the refrigerator, covered.
To assemble the tortelloni, begin by dusting 2 baking sheets with semolina flour and set aside.
Make the pasta according to the directions. Remove a 2-foot section of the dough sheet and cover the rest with plastic wrap. Using a straight wheel cutter or sharp knife and a ruler, cut the dough into 2-3/4-inch squares. With a piping bag or spoon, place 2 teaspoons of filling into the middle of each square. This amounts depends on the size/precision in which you make your squares. Try to fold some and if you see there's flling coming out of it when you do, take out 1/2 a teaspoon, or more!.
Fold the pasta in half so the opposite corners meet, forming a triangle. (Use a spritz of water from a spray bottle to help seal if necessary.) Gently press out the air around the filling by running your fingers from the tip of the triangle downward. With your thumbs along the base of the triangle and your index fingers halfway down each side of the triangle, gently pinch your index fingers and thumbs together and rotate your left index finger to fit under the base of the triangle. Wrap the corners around your left index and middle fingers and pinch them together to seal. You should have a small gap between the filling and the pinched dough, like a ring.
Working quickly, place the tortelloni on the prepared baking sheets, spaced apart, until ready to cook. Don't let them touch or they may stick together. Repeat until you run out of dough or filling. You should have 30 to 40 pieces.
To make the sauce and finish, heat your oven to 350°F and bring a large pot of salted water to a boil.
In a small bowl, combine the pumpkin seeds with the olive oil and a pinch of salt. Evenly distribute the seeds on a baking sheet and toast until golden brown, about 11 minutes. Remove to a plate and set aside. Drop the tortelloni into the boiling water.
Heat a 12-inch sauté pan over high heat. Add 1/4 cup of the pasta cooking water and the measured butter and bring to a simmer. Cook the tortelloni about 80 percent through and almost al dente, about 2 to 3 minutes. Scoop them out of the water (reserve it rather than draining) and drop them in the sauté pan along with the sage. Swirl, and quickly reduce the sauce until it coats the back of a spoon. If it looks too dry, add a few more tablespoons of pasta water to keep a saucy consistency and continue cooking until the pasta is tender, about 90 seconds. Taste the sauce and add more salt if necessary.
To serve, divide the pasta and sauce between four warmed plates. Sprinkle with Parmigiano-Reggiano and the toasted pumpkin seeds. I didn't have pumpkin seeds but used sunflower seeds and they looked and tasted well! 
Care for a bite?
As you can see… I tried to make the tortellonis' shape… but failed a lil' bit. Hey, it was my first time making filled pasta! Fortunately, the deliciousness of the dish didn't change. I wish you the best of luck (and if you do make it, show me a picture!).
A

mangiare

!
UPDATE: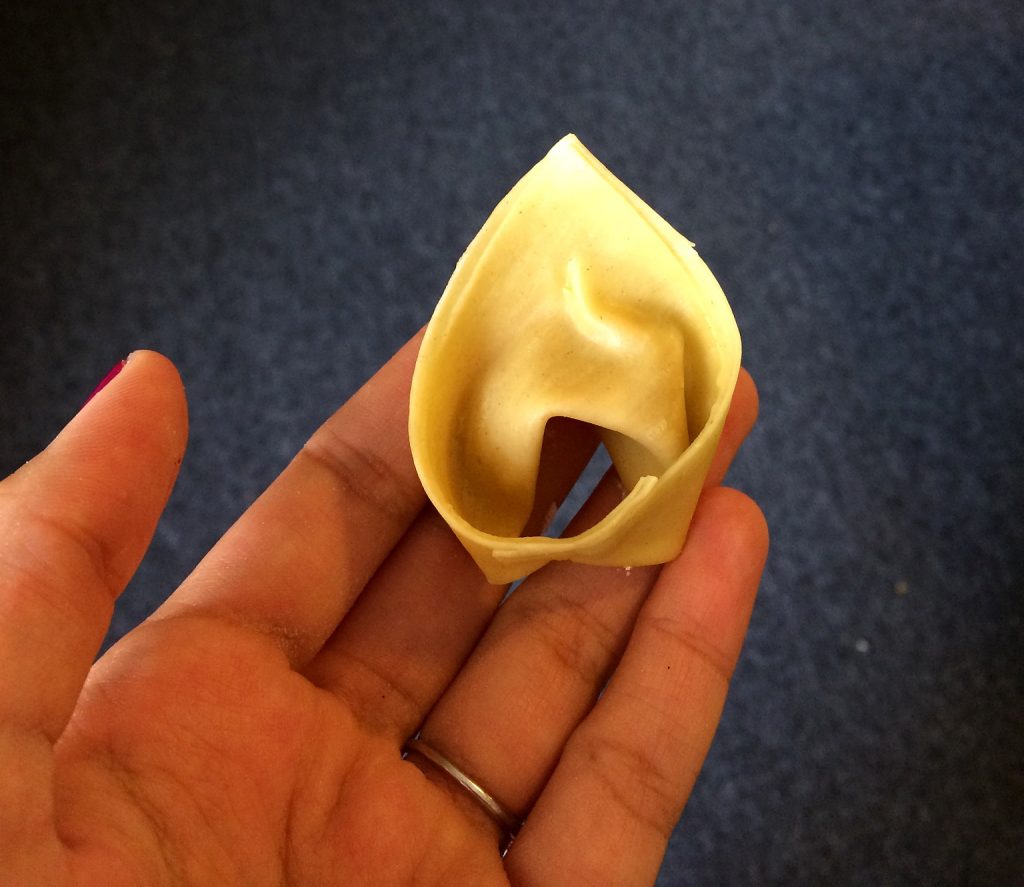 I only did half of the recipe on that day so when I did the other half… I did make the tortelloni's shape!
I got some really good tips from this post by The Art of Doing Stuff. Check 'em out!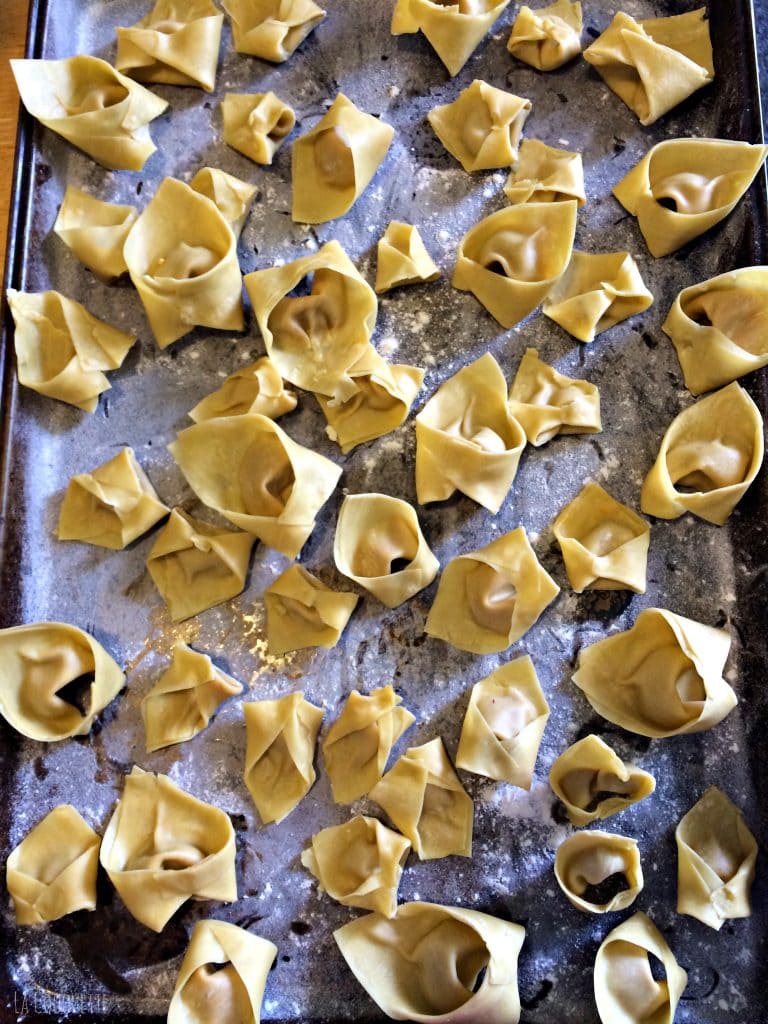 Disclaimer: I received this book from the Blogging for Books program in exchange for this review. However, all thoughts and expressions are my own – because it is THAT good!
Related posts: