This is…
rainbow
ice
cream
!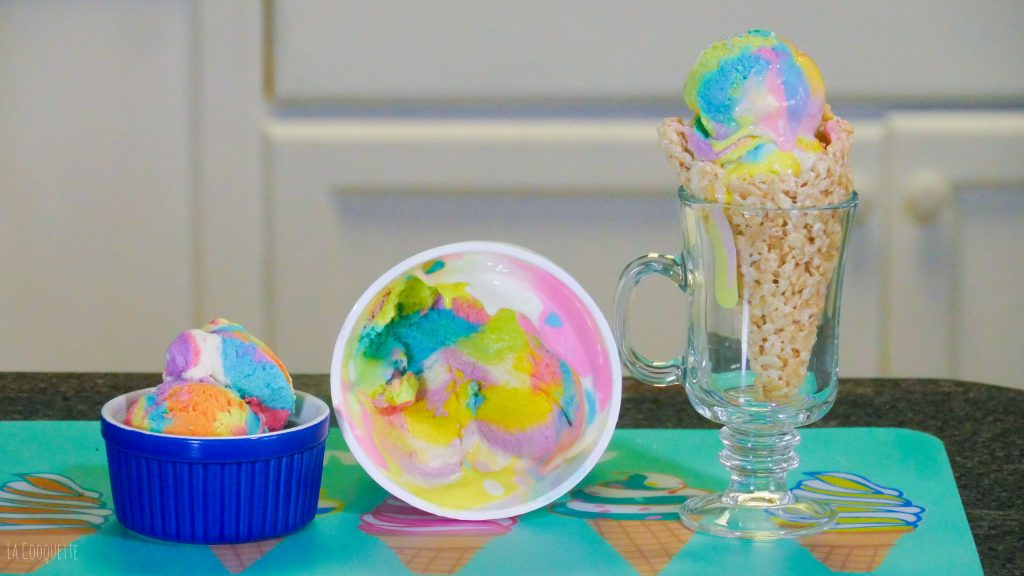 Yup, it's lovely, bright, and cheerful rainbow ice cream. And what if I told you it is no-churn ice cream made with only 3 ingredients and no ice cream machine?
Would you call me a fool? Would you question my sanity? Bueno amigos, deal with it because it is that simple! And no, no trick behind my sleeve – I just believe in magic!
And unicorns. I LOVE UNICORNS. Which is why I colored this rainbow ice cream with the loveliest pastel rainbow colors I could find. It was all secretly a plan to get a unicorn to visit my house and munch on rainbow ice cream while I was distraught. And they did come… but only because I also made special cones to go along with the ice cream!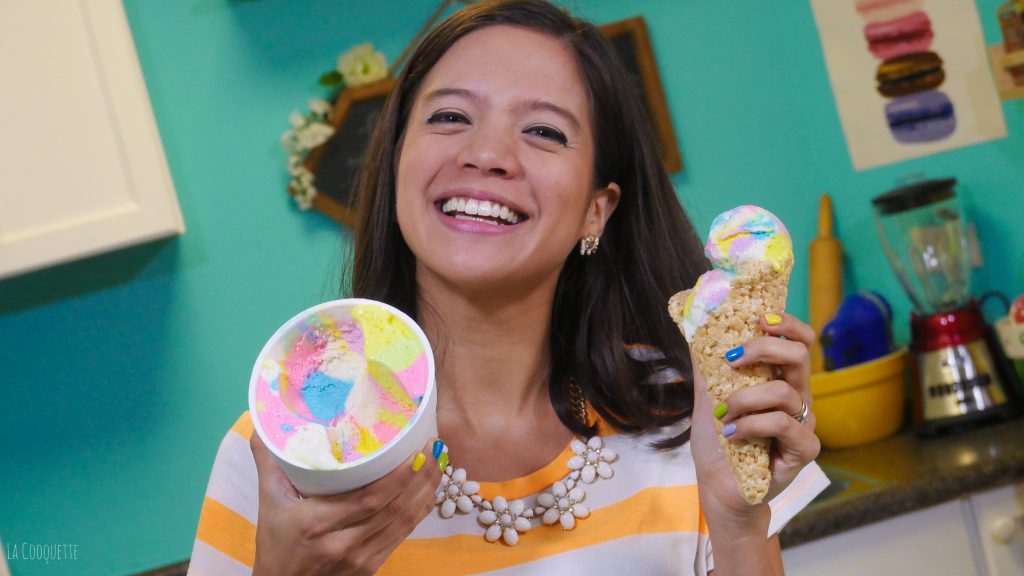 I may sound a bit crazy, but that's because making ice cream in such an easy way does make one incredibly happy – perhaps it's the effect of sweet condensed milk, or the fact that I had to make this twice to film my video recipe… nah, it is PURE MAGIC!
I have to admit that this "cloud 9 experience" came from a master: Gemma Stafford from Bigger Bolder Baking shared this magic trick into this world, and the world became a brighter, better place! Seriously, this rainbow ice cream is the stuff dreams are made of! And my dream didn't stop there: the sugar had me I was on a roll-ercoaster, I decided to take this chilly treat to the next level… and serve it on Rice Krispies ice cream cones!
Both, together, mean business. Watch how I made it on this recipe video:
So if you're looking for a fun recipe to enjoy making with your kids, something with no fuss and all play that makes you feel like a child again, trust me: try this rainbow ice cream!
Have

a

sweet

sweet

day!
**Psst: and remember to keep the window open for any unicorns! (Yes, they come in through the window!)
Rainbow Ice Cream
Prep time: 15 min    Freezing Time:  6 hours    Total time: 6:15 hours
INGREDIENTS:
2 cups of heavy whipping cream, chilled
1 can of sweet condensed milk, chilled for 4 hours before making the ice cream
1 tsp of vanilla extract
YOU WILL ALSO NEED:
1 big bowl CHILLED at least 30 mins prior starting!
Liquid or gel food coloring (in any colors you like!)
1 ice cream container (foam or carton) with a lid
DIRECTIONS (watch this recipe video to see how I made it!):
Mix heavy whipping cream in a chilled big bowl, with a beater on high until soft peaks form.

Add in the chilled can of sweet condensed milk and vanilla. Mix well.

Separate ice cream base into equal parts in different smaller bowls, as many as colors you are using.

Color each of the parts with whichever food coloring you prefer – gel food coloring will be stronger.

Start filling your container by adding spoonfuls of each colored ice cream base. The smaller the quantity you add, the more colors per ball you'll have. Get rid of air bubbles by tapping the container a few times.

Once you reach the top, close with a lid and put container in the freezer for at least 6 hours or better overnight.

ENJOY! Better yet: make Rice Krispies ice cream cones and serve it on top!
Related posts: