Keeping my house warm this winter hasn't been an issue. With ALL THAT COOKIE BAKING!
More specifically, with making over 60 alfajores!
I was so excited because I participated in my 1st Great Food Blogger Cookie Swap – a fun and enormous cookie swap among 600+ food bloggers in the US and the world!) that was started 4 years ago by Lindsay from Love and Olive Oil and Julie from The Little Kitchen – this year we helped the Cookies for Kids' Cancer cause!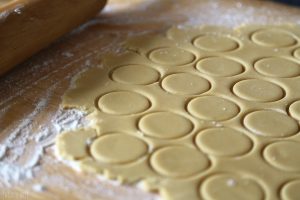 In the end, I think I made double the amount of dough that I needed for these beauties. But hey, salted dulce de leche, ginger, warm kitchen, what's not to like? Hope the food bloggers I sent the alfajores to (Take Two Tapas, Momma told Me, In the kitchen with KP) liked them…but guessing from this post and this one and this one that's also a YES! Woot woot!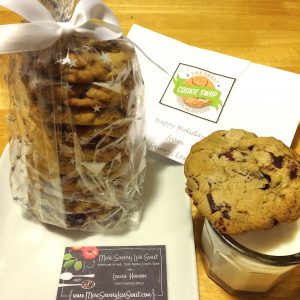 I received some really yummy and very Chunky Chocolate Cranberry Pistachio Cookies from More Savory, Less Sweet and Lemon Crinkle cookies from Kristie at Creative Touch. With their batches and my batches, my house looked like a cookie bakery.
One of the best parts of these alfajores, besides eating them of course and besides sending them to other people to share joy, was learning how to make my own dulce de leche. I've made it the really-lengthy way, by using Smitten Kitchen's amazing method twice now, but I found out a secret shortcut: you just need to boil sweet condensed milk!
Here's my recipe video so you can see the whole process: 
To tell you the truth, I was a bit skeptic at first about the dulce de leche making process, but after 2 hours or so of re-filling a pot containing boiling water and a can of sweet condensed milk, it somehow-magically turned into dulce de leche! So yeah, you can either spend 4 hours or so constantly mixing boiling milk or just leave your can and refill it with water every once in a while.
Anyways, let's focus on the cookies now….
They have lots of ginger. Very festive of them, I know haha! I wanted to try more crazy mixes, but I figured since alfajores were traditionally consumed during the Christmas season in the South of Spain (where they're originally from), that made them festive already!
I also wanted to play with the sweet and salty combo and thus added a bit of sea salt to the creamy dulce de leche inside. Add to that the soft, powdery crumbliness of the alfajor dough, and you have my friends an addictive treat. Overall, a very much recommended baking project for the season!
Hope you bake,

eat

and be merry!
p.s. and if you're interested in participating on next year's Food Blogger Cookie Swap, you can register for updates here!

Salted Dulce de Leche and Ginger Alfajores
Prep time:
1 hour

   Cooking time:  

10-15 min

   Total time:

1:15 hrs
—> For preparation steps, see the Ginger Alfajores recipe video posted above!
Ingredients
(to make around 20 – 24 alfajores)
1 cup cornstarch
¾ cup all purpose flour
1 ½ tsp baking powder
3 tsps of ginger
1/2 cup granulated sugar
1 tsp baking soda
¼ tsp salt + some more to sprinkle on top of the dulce de leche
2 egg yolks
½ cup (8 Tbsps.) of unsalted butter, softened
1 tsp lemon zest
2-3 tsps lemon juice
1 tsp vanilla
1 tsp almond extract
about 2 tsps. powdered sugar, to sprinkle on top
Easy dulce de leche:
1 can of sweet condensed milk
1 pressure-cooking pot or normal pot with boiling water
Patience 🙂 it takes 2 hours on normal boiling and 50 mins on a pressure cooker!
Related posts: