What if you could have cheesecake with no regrets?
And what if you could have raspberry jam with no regrets?
And maybe, just maybe… picture this… What would happen if you joined the two? With a zest of citric? Ohhh!
A DELICIOUS SKINNY EXPLOSION (?!)
Enough said. Check out my video for these Skinny Raspberry Cheesecake Bars here:
Ok, joking aside, these bars are one of THE best cheesecake treats I've tried. I think it also comes from the tiny pride of knowing you made your own jam (100 points!), but it might also have to do with the fact that you won't regret eating lots and lots of them.
They are made with Greek yogurt instead of only cream cheese, but they still remain creamy!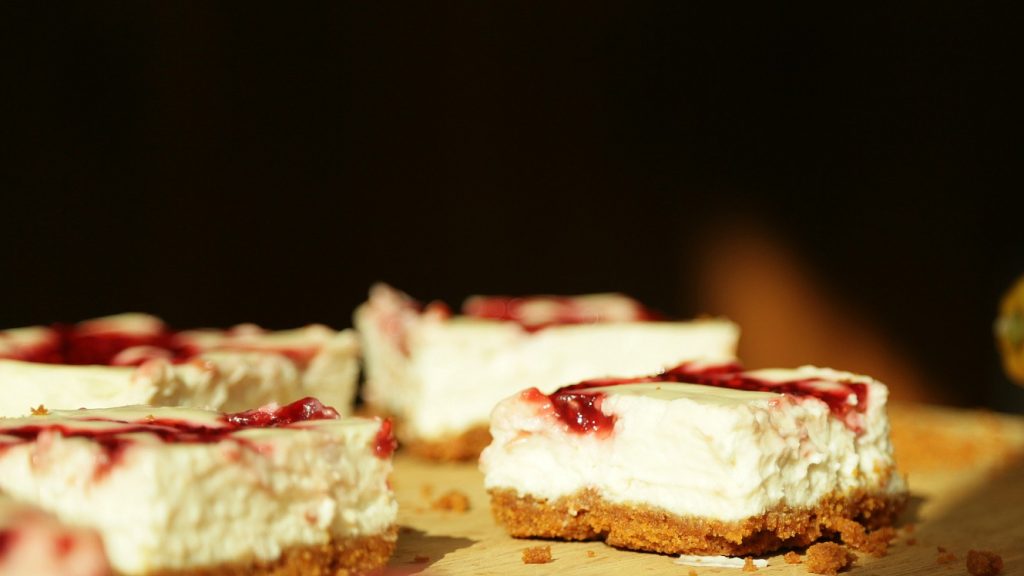 The lemon in this recipe really brings out the flavor of the fruit without overriding it.
The colorful swirl also gives them a very nice look, perfect to bring to parties and get-togethers!
Go make them already, I know your mouth is watering!
Ingredients:
(for a 6.5-in x 6.5-in pan, or around 9 bars)
For the Jam
3/4 cup raspberries
2 Tbsp brown sugar
For the Crust
5-6 full-sheet graham crackers (or 3/4 cup of crumbs)

2 Tbsp unsalted butter, melted
For the Filling
8 ounces of reduced fat cream cheese
3/4 cup low-fat Greek yogurt
2 egg whites
1/4 cup granulated white sugar
2 Tablespoons all-purpose flour
1 Tablespoon fresh lemon juice
2 teaspoons vanilla extract
 Enjoy responsibly (or not! :P)!
See the original recipe by Sally's Baking Addiction here.
Related posts: