The sun is up early morning and leaving after 7pm.
The temperature rises and your house becomes an oven from 9-6.
Somehow I feel like there's ice cream everywhere I turn.
Yup,
It's still summer

people.

Even though we're in the last bits of it, this doesn't mean we need to start piling up for the Fall. We can still enjoy the marvelous things that come along with summer's tail.

Things like tomatoes.
A whole bunch of tomatoes.
The peak of summer means tomatoes of all colors are everywhere. I know you have a bunch lying around there somewhere! Maybe too much. But they're so flavorful you wouldn't want to waste them away, like some people in Spain do for La Tomatina, right?
Here's the answer to tomato overload + hot summery nights:
Fresh, delicious traditional gazpacho.
Now, before you see the recipe, I might say there is a "Message to Humanity" in the video that might spark a debate. This it it:
I made the traditional gazpacho recipe people from the Andalusia region in Spain (where it all started) know by heart. If the same Spaniards tasted any of the weird things that are named "gazpacho" these days around the web they would probably wish those dishes a cruel, slow death.
Why so dramatic? I'm not Spanish, but I lived in Spain for four years and I can put myself in a typical Spaniard's shoes and yes: it would bother me to see my favorite summer soup being transformed and reduced to a yucky salsa-like thing. I think this happens because people think "gazpacho" might just be the Spanish translation for "cold soup"… when it's not. It's not a salsa, it's not pico de gallo, it's not a smoothie (Slate agrees with me even though they put almonds and jalapeño in theirs).
I mean, can you spot the differences?!?!
SERIOUSLY?!
A word for the classy adventurers: There are some who have tried to make neo-gazpacho recipes with style, like this one that does it out of a cantaloupe, or this watermelon gazpacho. It sounds as if it tastes amazing, but I'm still hesitant….

Now with this I'm not against experimenting (heck I've made avocado brownies!), but I just wouldn't call a burger a sandwich (let's not start another debate, but they're different). I think my middle ground would be that if you want to name your dish only "gazpacho", you should be thinking about the traditional recipe. If you are adding more than the normal ingredients, please add that to your title, and help prevent Spanish heart attacks.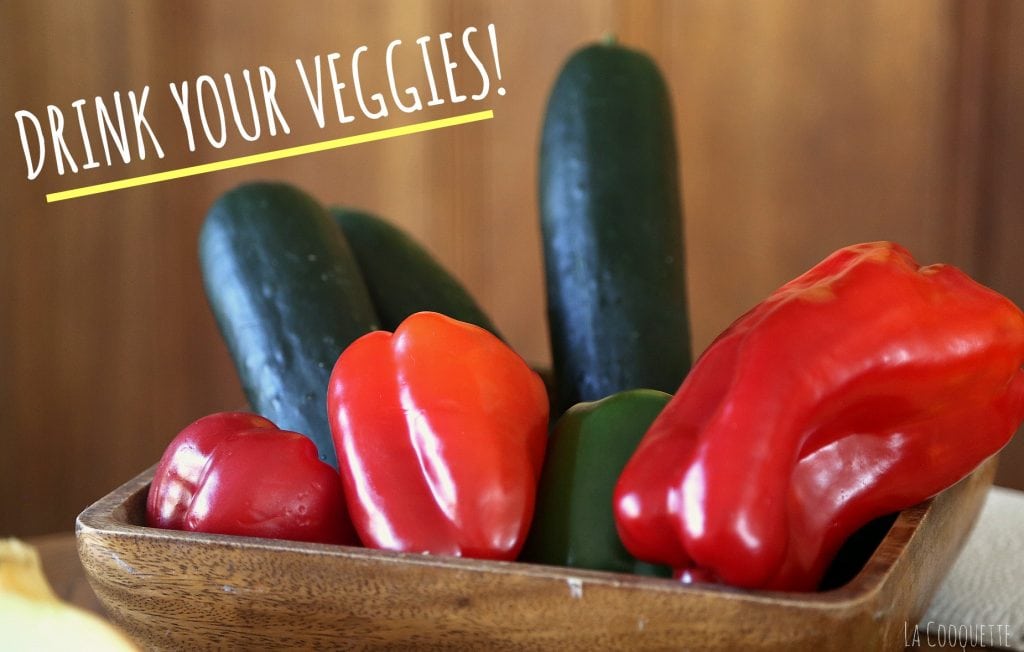 My advice for experimenting and still call it "gazpacho"? Using any of these fresh definite ingredients in different quantities. There's still a world a possibilities in them!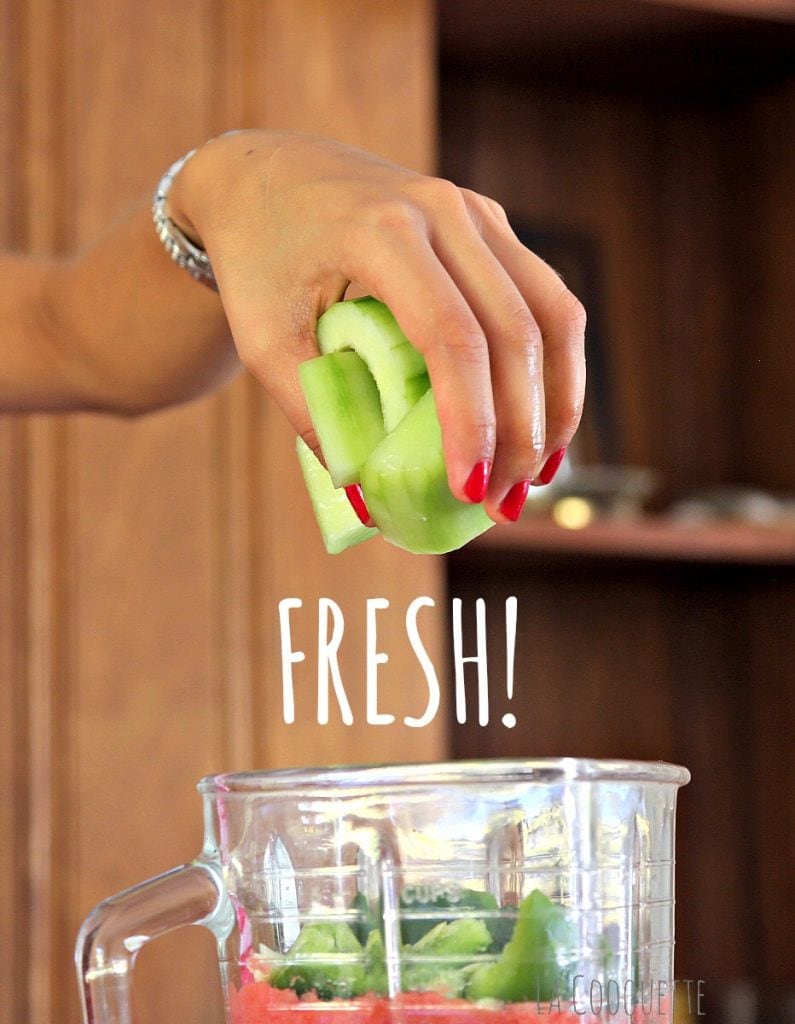 One last tip: remember to remove the germ from your garlic cloves. I would never bother for cooking, but since this recipe uses it raw, if you don't remove it it will add a bitter/spicy flavor, and you wouldn't want that…right? Or maybe you do, so just don't listen to me. But don't tell me I didn't warn ya!
Prep time: 20 min     Waiting time: 20min    Tiempo total: 40 min
 —->The recipe directions are on the video at the beginning of this post! 
Equipment
Ingredients
(To make gazpacho for two people)
3 ripe tomatoes, diced in fourths
1/2 cucumber, seeded and diced
2-3 garlic cloves, without the germ
1/4 a white onion, diced
1/2 green pepper, seeded and diced
1/2 red pepper, seeded and diced
2 tbsps olive oil
salt, to taste
1 tbsp white wine vinegar
1 slice of white bread (or equivalent in baguette bread), no crusts
1/2 cup of water
To serve/decorate*:
1 hard-boiled egg, chopped
croutons
*You can also add Serrano ham, more onions or peppers, and drizzle olive oil on top!
 Enjoy! There are still many summer memories to make, especially with this! 🙂
Related posts: