Can veggies cause addiction?
Maybe if they look like this:
No, your eyes aren't fooling ya. These are veggies, in all their glory. What makes this dish BEYOND divine are the various yummy components that play so well together, Karen and Andrew would be proud :)!
This power couple just released what I would call a spinoff (although it is a tornado on its own) of their famous (and always coveted) book The Flavor Bible: The Vegetarian Flavor Bible. See the difference? VEGGIES. This is what inspired me to cook a vegetarian explosion and I'm giving away ONE DIGITAL COPY of this masterpiece
To enter the giveaway simply leave a comment on this post telling me what's your favorite vegetarian recipe! Comments must be received by
noon

, PST, 

October 21st, 2014.

 The winner will be chosen via Random.org and notified via valid email address.

— see more details at the end of the post!

Before you get on to the recipe, let your eyes feast on each step of this mountainof veggie explosion and joy. I have photos for all steps though I can't promise all are good (since it's one of my very first cooking-and-shooting experiences).

STEP 1: Spaghetti Squash

When I first discovered this majesty I couldn't stop admiring its style, it's gracefulness, its poise. I cooked it the first time and I was hooked. I even made a video about it.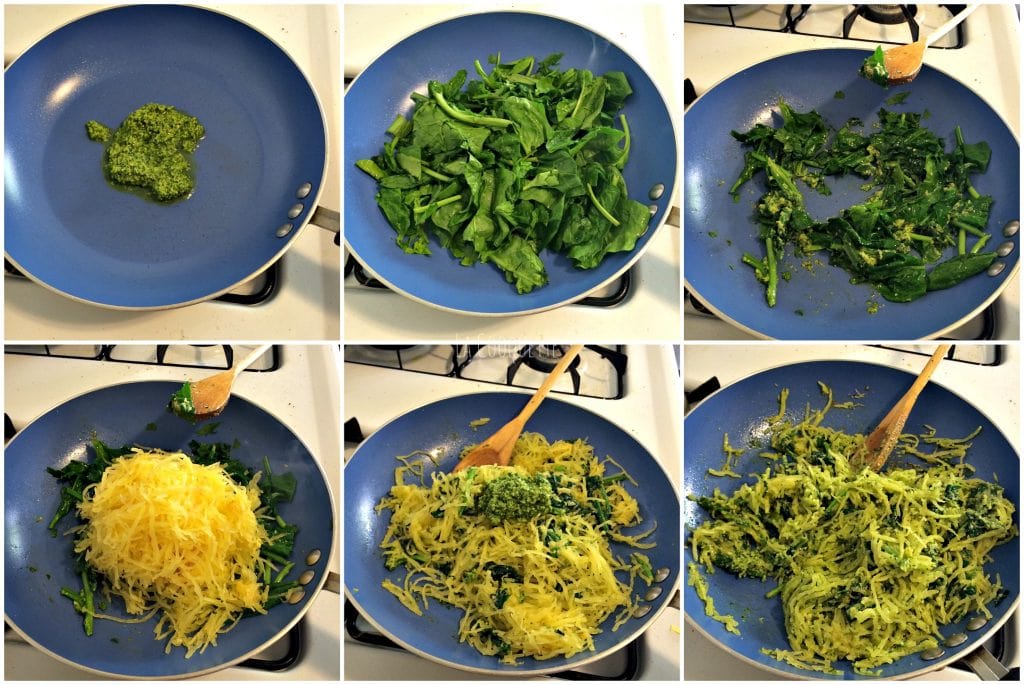 I mixed the spaghetti squash with cilantro pesto and spinach, to have an extra healthy kick. If you're into spinach, don't cut the stems: I found some interesting info on how they have more fiber than the leaves!! Eat all, that's my motto!
STEP 1.5: Cilantro Pesto
Well, for this you gotta see my next  video that's coming out THIS WEEK!I will post it below after it's completed, but if you can't wait to make it, I definitely recommend you to subscribe to La Cooquette's YouTube channel to get it first ;). Or else lose sleep thinking about it, whichever way you prefer. jk! 😉
STEP 2: Roasted veggies
Need I say more?
STEP 3: Caramelized onions

Last but not least, I thought the dish needed a sweet and sour taste to perfect the roasted flavors. And since I just learned the true way of caramelizing onions (thanks to The Kitchn's #kitchnschool), I decided to give it a try. It was beautiful. Plus, I felt like a pro! I'm gonna have caramelized onions on everything now.
STEP 4: The all-together!
So once you put all these components together you get this.
Veggie explosion? More like Veggie Perfection.
It tastes like a creamy fresh autumn garden, a plantation of goodness, a luscious field of joy. Yup, never tasted either of those in in real life but I think if there were a tree-of-all-veggies-life, it would definitely taste like this.
Trust me, every step is worth it. Every bite explodes in your mouth with flavor and the great part is that after you've eaten it all (even second servings), you'll feel good about yourself, since you've celebrated Mother Nature and she has celebrated you in turn.
Something to get you even more excited?
THIS:
THE VEGETARIAN FLAVOR BIBLE GIVEAWAY
Before share with you this powerful veggie-overload recipe, I'd like to give one lucky La Cooquette reader a chance to win a copy of The Vegetarian Flavor Bible on digital! You can read this using your laptop, your phone or any of your e-readers (iPad, Kindle, etc.).
If you have read The Flavor Bible, this one will STILL definitely surprise you. More than half of the book is a detailed description on all the vegetables, seeds, condiments and meat substitutions known to man and the ways you can pair 'em up with others. The possibilities? Endless.
I also had the pleasure and honor of meeting Karen Page and Andrew Dornenburg at the IFBC last September in Seattle. They gave an inspiring keynote and shared their life story about how they discovered the love for the vegetarian industry. Although I'm never gonna stop loving meat, I do get excited about veggies and the fact that they are taking the center stage in our daily life is no joke. According to Page and Dornenburg it is one of the top 3 mega food trends (along with "treating plants like meat" and "meat consumption decreasing") in the U.S. And if they taste amazing, why not have them?
It's definitely a new world for me and I love the fact that The Vegetarian Flavor Bible will be there to guide me. Let it lead you too!
THE RECIPE
Veggie Explosion
Ingredients
(makes 2 servings)
½ a big spaghetti squash
1 tbsp olive oil
salt and pepper to taste
1 cup of fresh spinach, chopped, stems included!
1 cup of cilantro pesto (see upcoming video recipe for more info)
1 green bell pepper
1 red bell pepper
1 medium sized zucchini
3 cloves of garlic
1-2 tbsps olive oil (to sprinkle on top)
Salt and pepper to taste
1 medium-sized red onion
¼ yellow onion
1 tbsp butter
1 tbsp olive oil
⅓ cup of red wine
Process
The creamy pesto squash base
Cut your spaghetti squash in half (be patient and careful, it might be very hard even with the proper knife!)
Spread a bit of olive oil and salt and pepper on top of both halves and put it on top of a baking sheet to bake in the oven on 350 F for about 30 mins. Check if it's done by introducing a fork (if it's soft, it's ready to eat!).
Create your "spaghetti" by "peeling" the meat off the squash with a fork
P.S.: I have a video recipe for spaghetti squash in which you can see how this is done!
Once you have your strings, sautée them on a pan with the spinach and the cilantro pesto. I added the cilantro pesto and the spinach first so they softened.
*For the Cilantro Pesto: I used cilantro, blanched almonds, cotija cheese, lime juice, olive oil, garlic cloves and salt and pepper to taste. I have an upcoming video this week with the full recipe, subscribe to get see it first!
Roasting the veggies
Chop both of your peppers in long pieces and your zucchinis in squares.
Add all of them all to a non-stick baking sheet.
Chop the 3 cloves of garlic. Add chopped garlic spreading it around the baking sheet.
Season with salt and pepper and add a bit of olive oil on top for everything to let even more flavors out.
Put it in the oven at 450F for 10-15 mins or at 350 F for 30 mins. Make sure you check your veggies from time to time and move them around so that all sides can get a little bit of heat.
Caramelizing the onions*
Chop one full red onion and ⅕ of a white onion in julienne cuts
Add the tablespoon of butter + olive oil on a big skillet (preferably non-stick or ) and let it melt. While hot, add your onions and make sure they all get a tasty
Deglaze your onions with water, or red wine: I used red wine.
*See The Kitchn's lesson on onions and garlic or their recipe for caramelizing onions for more info!
Disclaimer: I did receive, along with my other fellow IFBC attendees, a free downloadable copy of The Vegetarian Flavor Bible. However, the giveaway and opinions around it are my own (because it's totally AWESOME!).
Related posts: