The leaves have slightly started to change colors, the days have gotten shorter and I am not melting inside my apartment anymore… yes people:
Fall has officially begun!!
And the best thing that it brings with it is FALL BAKING SEASON! 🙂
You will start noticing a lot more cakes and pies and cookies and more cakes fill up your social media news feeds, and hopefully your homes and stomachs as well.  I sometimes wonder: why is there such an obsession with baking around this time of year? But then I remember:
1. As the days get colder, people stay inside longer and they definitely need another way to warm up without having the heating on all day: duh, BAKING.
2. There are many holidays that require you to bring baked goods as a sign of respect (or just to show off the new thing you've learned to master).
3. Colder weather means layers: yes, as in cake layers.
4. Goodbye summer produce, hello fall acorns, pumpkins, apples and cinnamon stuffed marvels. Baking Fall produce and usual Fall things is in front of our faces everywhere we go, especially at markets and supermarkets (and I don't care if it's any marketing stunt, if I enjoy it, why would it be bad?).
5. Who wouldn't want to have a Baking Season?
Well, technically, I'm not really sure if it's a season, but for me it certainly is.
So, after this hushing and gushing 'round the best season of the year, I bring you a double whammy dessert.
Welcome "little" Carrot Cake Cheesecake!
It is the offspring of Mr. Carrot Cake and Mrs. Cheesecake, a match made in cake heaven!
See the video recipe below to learn how to prepare this sweet child of mine.

Unfortunately, I can't show you more pictures of it. And no, it's not because I ate it all as soon as I made it (although I could have!). I lost most of the photos I had of this recipe trying to transfer things to a hard-disk (!!) and I can't share but screenshots.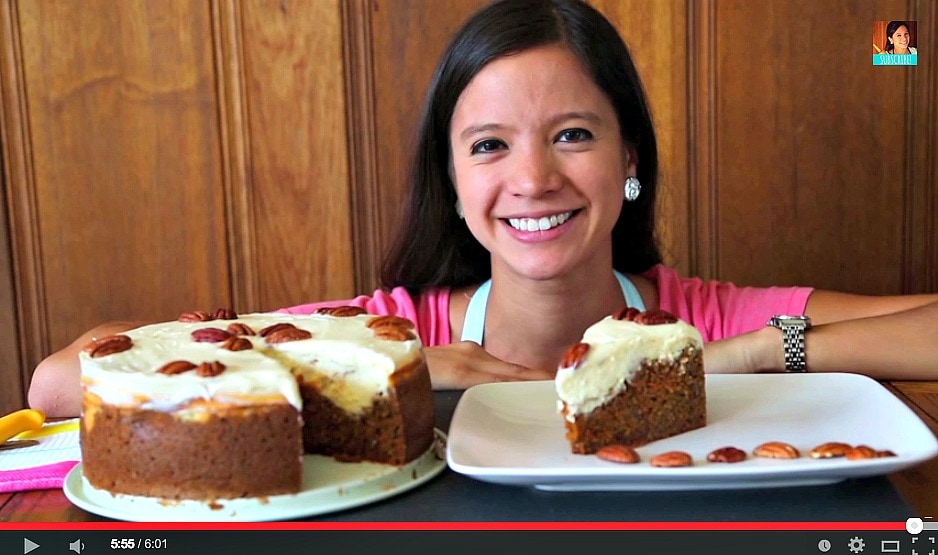 At least if you see this one you know it IS a real thing and somehow at the end of my video the cake looks deliciously beautiful.
P.S.: it WAS deliciously delicious too! Hope you enjoy!
Carrot Cake Cheesecake
Prep time: 30 min     Cooking time:  30-40 min    Total time: 70 min
Ingredients
For the cheesecake:
12 oz cream cheese, room temperature
2/3 cup granulated sugar
2 large eggs
3 tablespoons all purpose flour
1 teaspoon pure vanilla extract (or vanilla bean paste!)
1 cup greek yogurt
For the carrot cake:
3/4 cup vegetable or canola oil
1 cup packed light brown sugar
3 large eggs
1 cup pulverized pecans
1 teaspoon pure vanilla extract
1 1/4 cups all purpose flour
1 teaspoon baking soda
2 teaspoons ground cinnamon
1 teaspoon ground nutmeg
1/2 teaspoon fine salt
1 1/2 cup finely grated carrots
For the cream cheese topping (double for a 10-inch cheesecake):
8 oz cream cheese, room temperature
½ cup unsalted butter, softened
1 1/2 cups confectioner's sugar, sifted
1 teaspoon pure vanilla extract
Related posts: