Happy

Pi (e)

Day!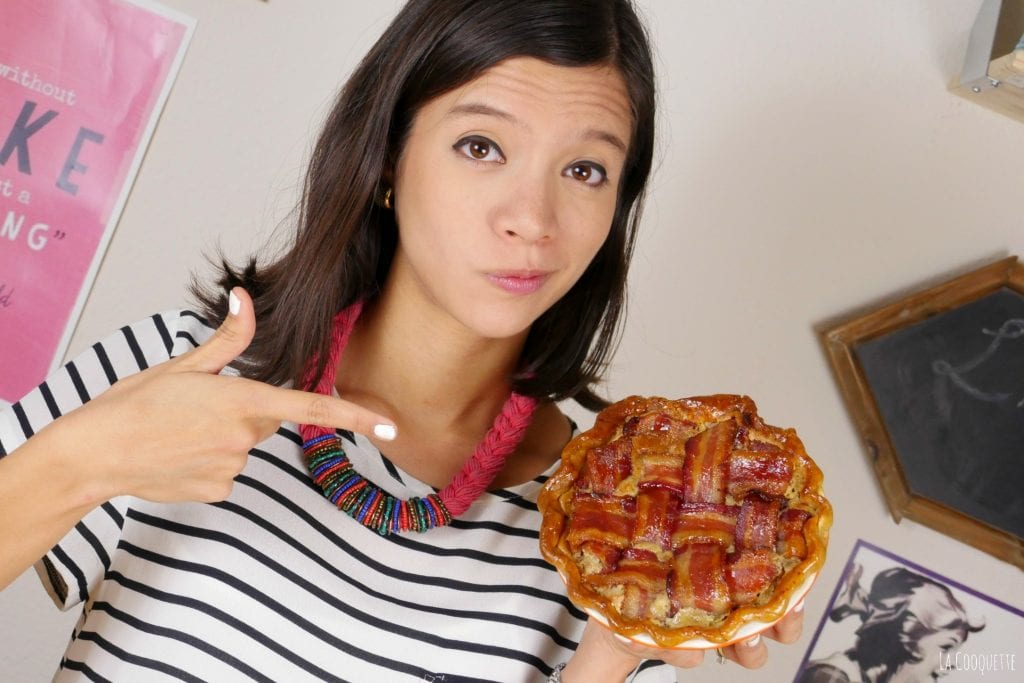 Ok I know it's officially "Pi Day" but Pie Day sounds and tastes waaaay better!
Considering that Pi day this year is "3.1416" (if you round the infinite number) I decided to go all out, and celebrate with one of the world's most tastiest treats: BACON!I wanted to make a pie that blended both savory and one of my favorite sweets: chocolate chip cookie dough! And thanks to an insurmountable amount of bacon I had lying around (thanks Farmer John!), I came up with this:


CHOCOLATE CHIP

BACON

PIE!
This pie is crispy on the outside, ooey goeey on the inside and sweet and savory all around! It is a packed flavor bomb so I made a mini pie (6-in) instead of a full 10-in one. The bacon lattice also makes for a beautiful presentation – who said lattice was just for apple pies?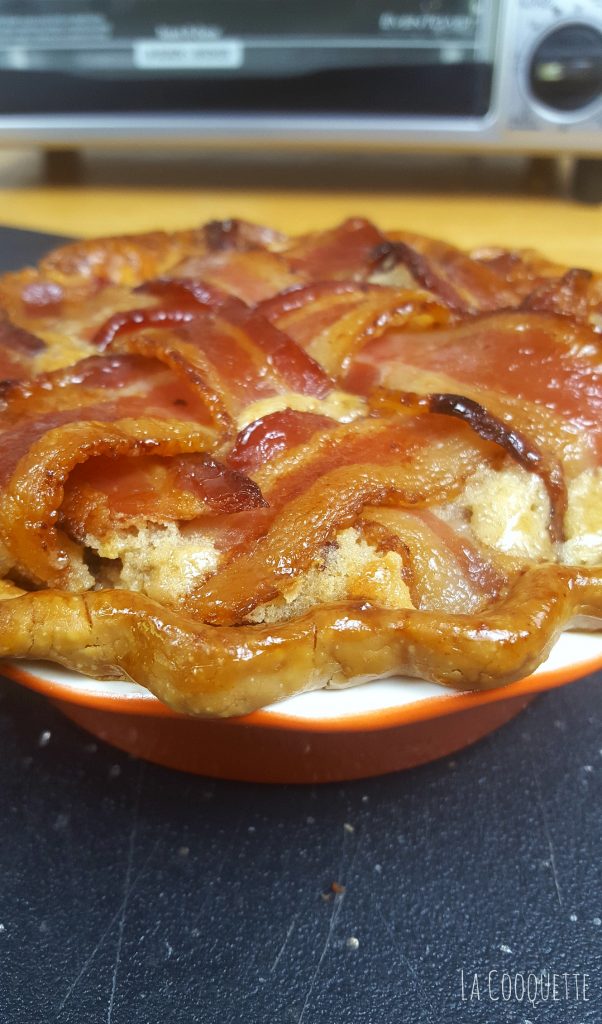 I was debating whether to do a chocolate + bacon pie or a maple brown sugar bacon pie, but the first one would've been too sweet and the second one too convential. This Bacon Chocolate Chip Pie hit just the right spot!
Hope you can try this treat! RECIPE BELOW! 🙂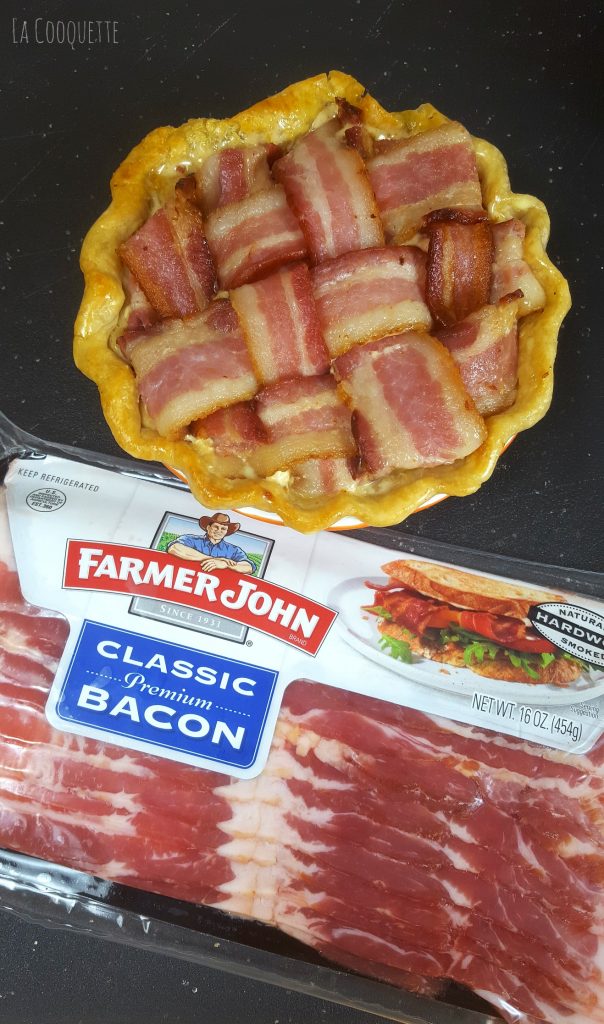 DISCLAIMER: Farmer John did provide me with a crazy amount of bacon – but all opinions and ideas expressed here are definitely my own! 😉
—————————————————————————–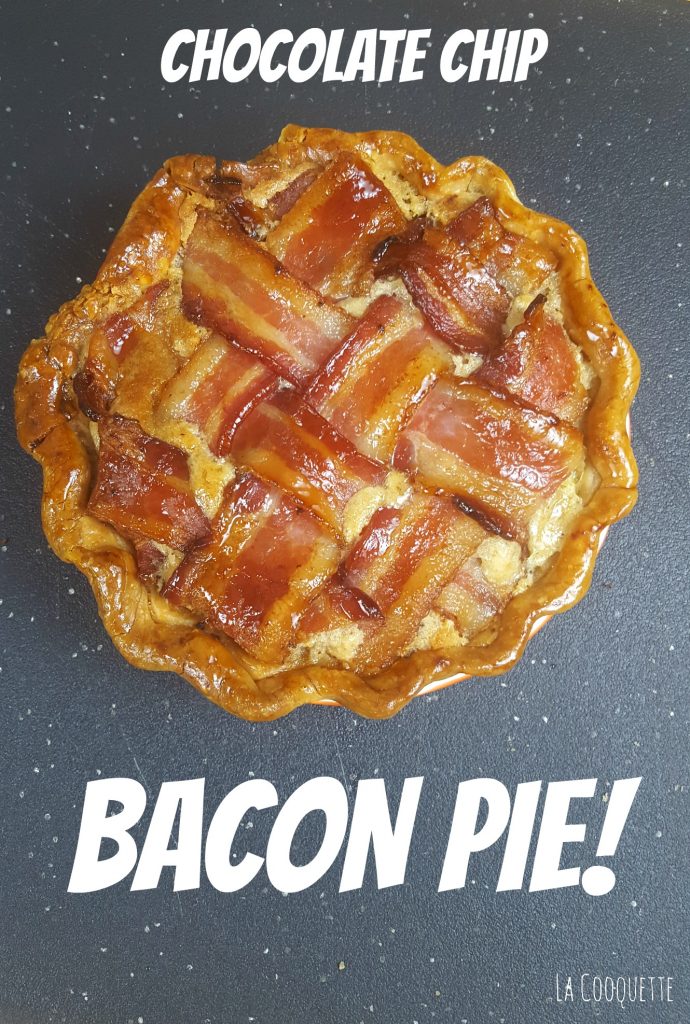 Bacon Chocolate Chip Pie
Prep time: 30-40 min    Cooking time:  35 min    Total time: 1 h 15min max.
INGREDIENTS:
(for a 6-inch pie dish)
½ package of store-bought pie dough (about 5 oz of pie dough)

2 cooked bacon strips, chopped as bacon bits

8 uncooked bacon strips (the leaner/thicker the better)

½ cup of regular sugar

½ cup light brown sugar

¾ cup flour

½ cup of chopped pecans

½ cup of chocolate chips

1 egg

4 tbsps unsalted butter, room temperature

1 tsp vanilla
STEPS:
Fit in store-bought pie dough to a 6-in dish (I sliced in half a regular pie dough package and rolled it again so it fit a smaller dish). Cook at 400F for 10 mins. Let it cool.

Make pie filling: beat egg until foamy and then add brown sugar, regular sugar, flour, vanilla extract, room temperature butter and mix well. Stir in nuts, chocolate chips and bacon bits.

Cook the strips of bacon halfway through: 8 min on a 400F pre-heated oven. Dab excess fat with paper towels.

Fill pie dish with filling.

Create a bacon lattice on top of the filling (see video for steps) and tuck the strips in the sides. Cut them a bit if they're too long.

Bake at 350 F for 35 mins.

Allow to cool for at least 1 hour before eating.
*for extra flavor: spread a bit of maple syrup on top of the bacon lattice, 5 mins before pie is done!
DEVOUR! 🙂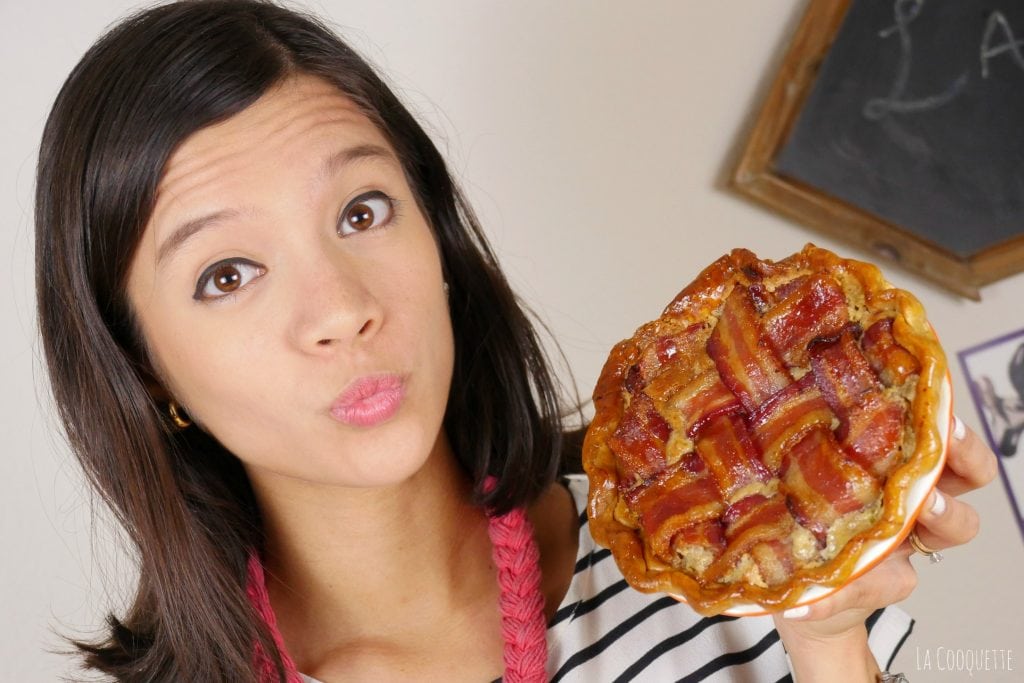 Related posts: