I was born in La Ceiba, Honduras and though I've lived in many cities around the world, I've been raised the longest in my home country and that makes me feel super grateful. Especially come Hispanic Heritage Month, as everywhere around me I see how passionate my Hispanic/Latino friends can get when they talk and discover more about their roots. ¡Y con buena razón!
So let me tell you a bit about my Honduran heritage.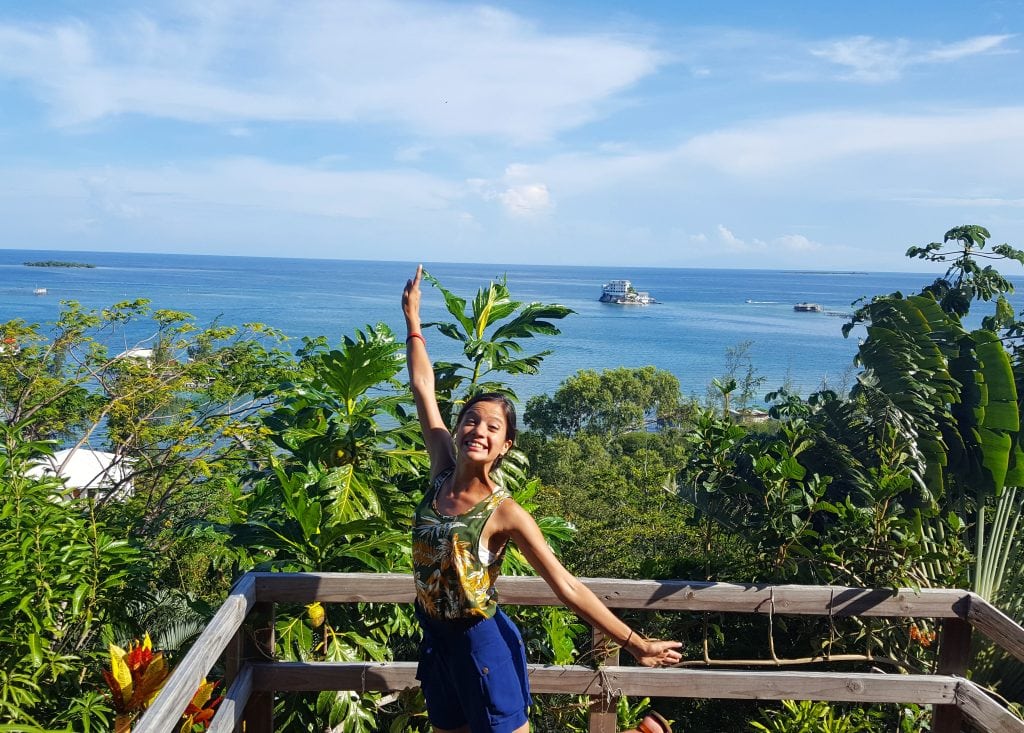 I had the luck to breathe and experience my Honduran heritage within Honduras for 15 years of my life, yet is funny how I really started appreciating it only after I left the country. Throughout my travels and stays, as I studied abroad in Spain, lived in D.C. and NYC for a year, moved back to Spain, moved to LA and now to Tijuana, my Honduran heritage has been my presentation card.
Not that everything I say is related to my Honduran heritage, but I do like sharing snippets of it and it makes me happy when people know where I'm from and remember something positive. Many may only know about Honduras from the negative news the media shares, so I do try to do my fair share of showing the world that there's more good than bad. And, especially, lots of deliciousness!
That's why today I'll share with you my favorite Honduran food treats – since food is my specialty. Here are just a few things which remind me of home, make me happy, proud, sometimes nostalgic but most of all help me cherish the heritage I've been granted. And I say I few, because there's just so much I still need to try!
Let's start with savory.
Baleadas
When you think of Honduran food you can't miss baleadas. Baleadas are a street staple, a flour tortilla that contains refried beans, queso seco (powdered dry cheese) and sometimes mantequilla (sour cream). But the flour tortilla used in baleadas is totally different than the one you would use in burritos. It's fluffy, stretchy, thicker, unique. And the cool thing is nowadays you can fill them with a bunch of things ranging from carne asada to plantains and yuca, so it pleases even the craziest of tastes! Baleadas are popular and loved, no wonder my most watched video is about them! Check it out:
Sopa de caracol
You ever wondered where that song came from? It's from Honduras! And conch soup, or sopa de caracol, is my favorite soup in the whole wide world. It's creamy and super flavorful and packed with a bunch of food. You can see how I made it in this video, following a recipe from someone in the Bay Islands. Uff. And what better way to accompany it then with TOSTONES ? (double fried plantains)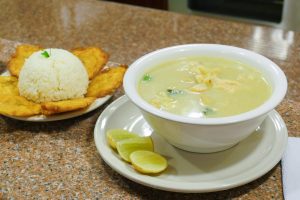 Anything coconut-based
From pan de coco, to rapadura de coco, to the base of many seafood soups and ceviches, coconut is a pretty big deal in Honduras. Check out this amazing modern concoction of a conch ceviche!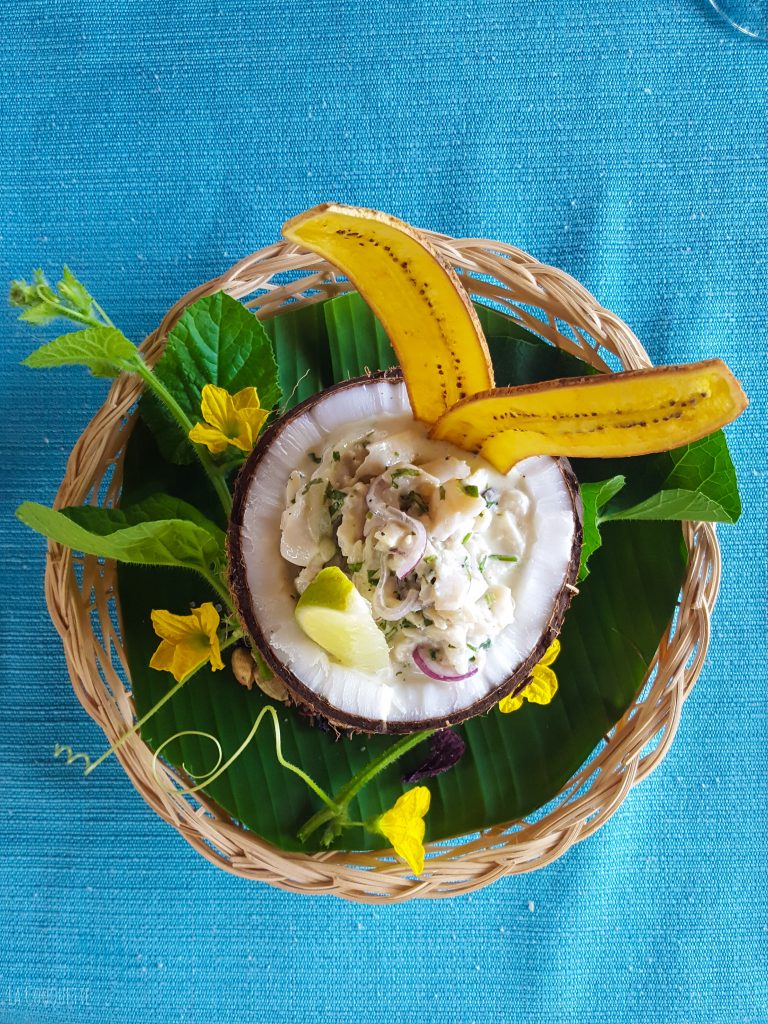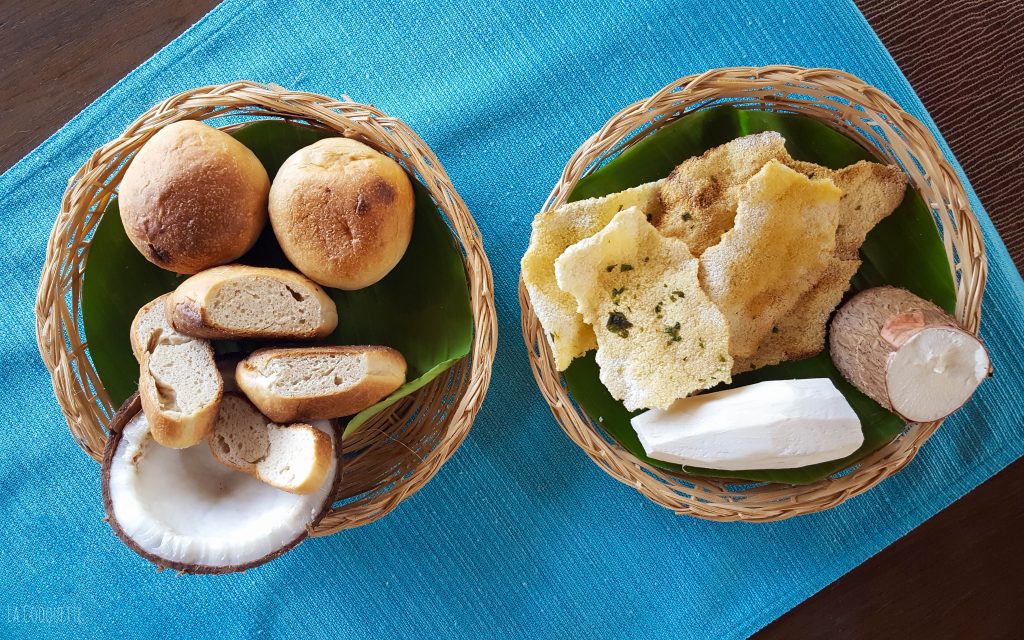 Chuleta con tajadas
This fried green plantain mountain with pork chops and sauce are bomb. Nuff said.
Chicharrón con yuca (Pork rinds with yucca)
Though I'm not too fond of it, I dare to say there's no family in Honduras that hasn't prepared or tried this dish. It is ubiquitous from North to South.
Elotes, elotes locos
We have them asados or boiled, and we cover them with sour cream (mantequilla) and queso seco (powdered dry cheese). I once made a comparison between the Salvadorian elotes, the Mexican elotes and the Honduran elotes — guess which one won? See the video here.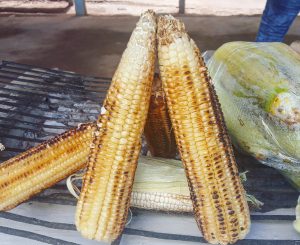 Plato típico ("Traditional dish")
They call this plato típico because it unites pretty much some of the basic items you need to make your stomach happy: refried beans, queso blanco, carne asada, chismol (Honduran way of saying "pico de gallo"), fried sweet plantains, rice or tortillas. We love meat.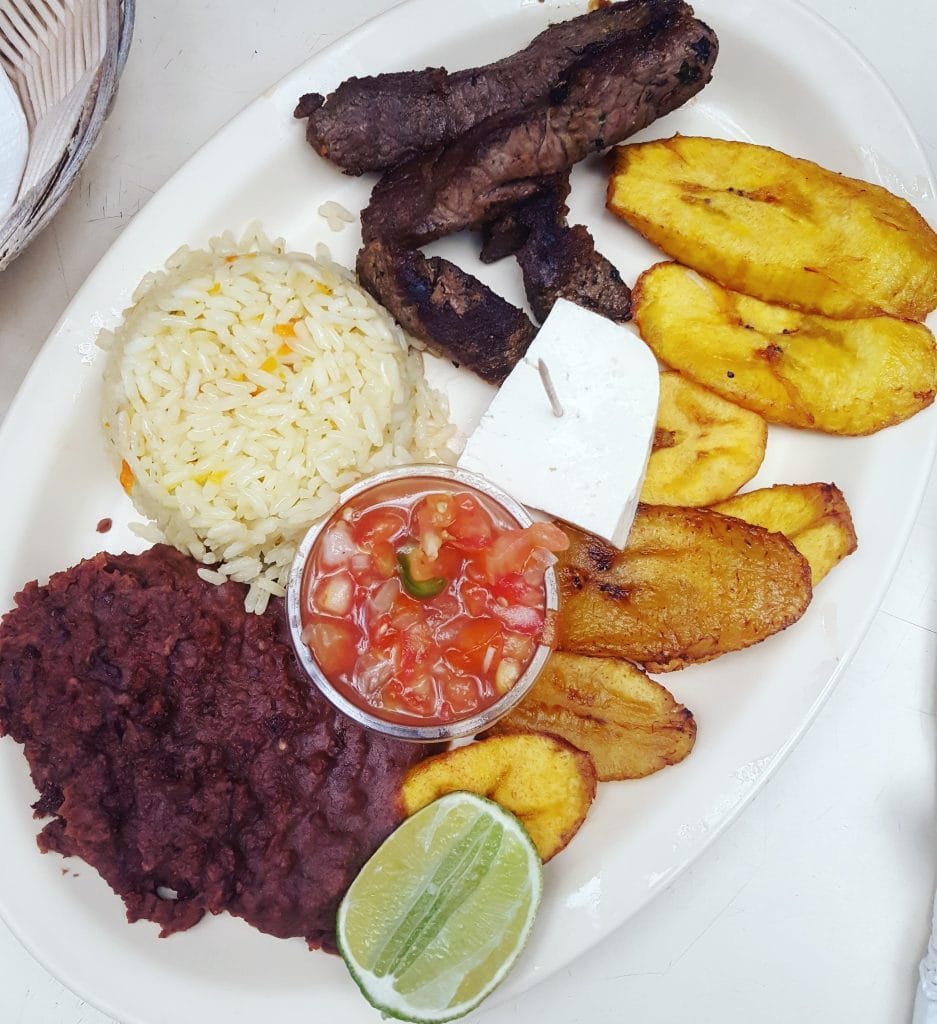 This one is missing some tortillas, but it was still delicious!
And where are the 
sweets

?

Tustacas and semitas

Tustacas are actually a mix of both savory and sweet. Made of courn flour and cuajada, with a bit of dulce de rapadura (piloncillo), they are usually eaten with a cafecito on the side, just like their friends the semitas. Semitas are the equivalent of Mexican conchas in Honduras.
Horchata
Honduran horchata is very different from the more well-known Mexican horchata: for instance, it doesn't have milk and it contains a seed that I haven't been able to find in Mexico, semilla de morro or semilla de jícaro. Some people add crushed peanuts as well and it has a very powerful taste! You'll see a video about it very soon!
Honduran candy
Rosquillas en miel, leche de burra, cocadas, espumillas, alcitrones, tabletas…So many to count!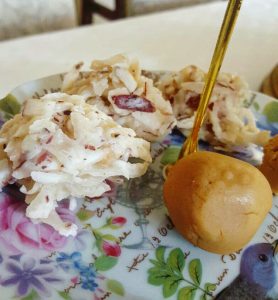 There is just too much to include in one blog post! And my mouth is watering as I type! Do you know any of these treats or think I'm missing an important one? Let me know in the comments! I think the best I could do is to keep making videos about all the delicacies Honduras has to offer, so for now I'll leave you with a song by an inspiring Honduran singer-songwriter, Guillermo Anderson. Anderson recently passed away but through his lyrics you can still feel his love for his Honduran heritage and all the wonders we have. In this song, called "El Encarguito", you'll hear a lot more Honduran food items you need to try!
PSST, PSST! Don't leave just yet:
This post is part of a cool series I'm doing with other bloggers, in which they share a bit of their Hispanic heritage as well! Please be sure to check their posts out after you're done here, our heritages are very rich, and the best thing is that we each can carry it and showcase it in our own magnificent way!
Happy Hispanic Heritage Month!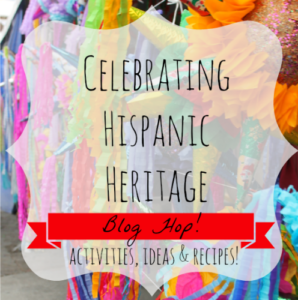 Throughout the month, go to Inspired by Familia to get the updated schedule and follow along. Here are the wonderful Hispanic bloggers participating Mama Latina Tips, Mommy Maestra, Embracing Diversity, Your Sassy Self, Hispanic Mama, Guapologia, Mama Educa, A Vivir LA, Inspired by Familia, One Post At a Time, La Cooquette, Spicy Latina Mom, Nerdvana Kingdom, LadydeeLG
Related posts: