Don't you love long-name recipes that slowly open up your eyes when you hear all of the ingredients they have? I am obsessed! Just look at this crowd of yummy friends:
When you make these Kale Pesto and Avocado stuffed Portobello Mushrooms you'll be too. You'll also probably eat them faster than what it takes you to spell out their name…but that is something good, right? You be the judge, here's your recipe video:
Oh, and fun fact about Portobellos? They are just regular mushrooms who are big! People sometimes get their name mixed up and call 'em "portabellas" but their real name is with an "o".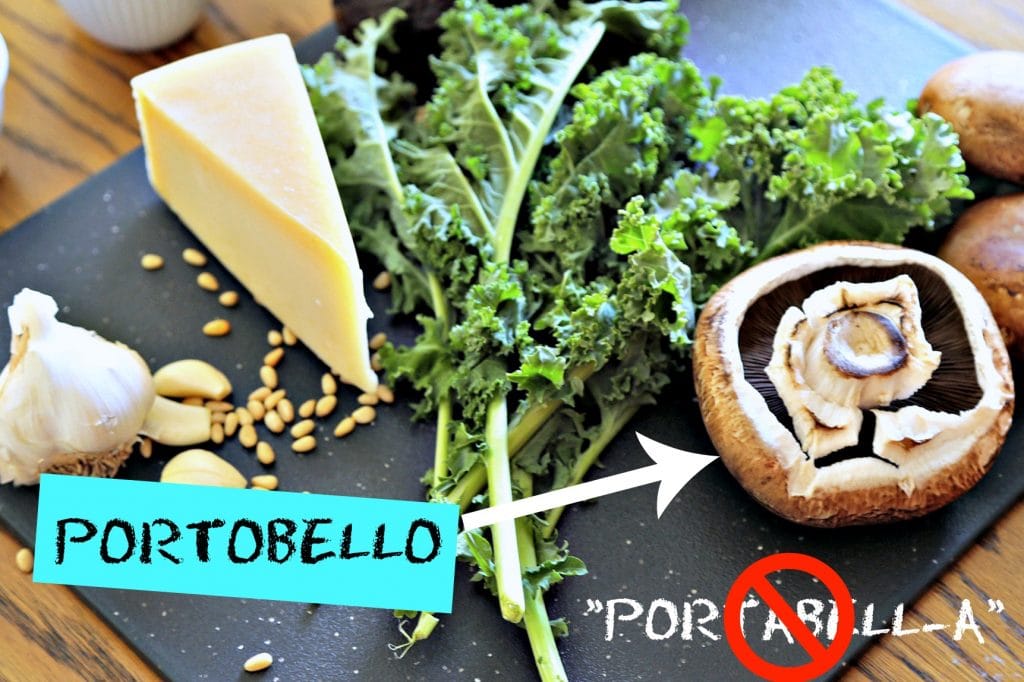 So many pungent flavors, so much richness and deliciousness! These portobellos can serve as yummy appetizers but, don't be fooled by the size of the mushrooms: they can really fill you up, so you can even have them as a light dinner! Just make sure you eat something neutralizing after it (like some delicious dessert), unless of course you want to be tasting your pesto all day long (which you might want to do but the person right next to you might not hehe!).
I found this great recipe on Bev Cooks' website and adapted it a little bit to include more avocado, more parmesan and more olive oil (I just can't get enough!) and I didn't add queso fresco.  You can also substitute kale for spinach, but I recommend the former.
Prep time: 15-20 min     Cook time: 15 min    Serve time: 30-35 minutes
Ingredients
(makes about 3 big portobello mushrooms or 6 small ones)
—-> The recipe steps are on the video I posted on top!
3 portobello mushrooms (or 6 small-medium ones)
2 cups kale leaves (around 3-4 stems)
2 Tbs. pine nuts, lightly toasted
1/3 cup freshly grated parmesan cheese (but more if you are a cheese-lover!)
3 cloves garlic
4 Tbs. extra-virgin olive oil, divided
1 pinch coarse salt
1 avocado
salt and pepper
Hope you end up licking your plate! Yumm yumm!
Related posts: