You know when you buy too many pumpkins to decorate your house for the Fall… and then Fall passes…and they just clutter your space and stop you from moving unto the Christmas decorations? What in the world are you supposed to do with them?
 Well, I know it's tempting but…don't throw them away! 
They still have a chance to show the world their tastiness. And I discovered a fun way to taste them: by making pumpkin fries!
When I first told somebody about this they were like : "huh.. fries?" And yes, it's something that you don't see everyday but trust me, they're SO GOOD.
Check out this video recipe for making Pumpkin Fries and Pumpkin Crisps.
In the video I used an acorn squash and a sweet "pie" pumpkin, but you can use any type of pumpkin. I initially had thought the acorn squash was a pumpkin (hahaha rookie mistake? Well, it's very common to confuse the two you know!)… I apologize for that!
I think you can make fries out of anything you set your mind to  😉
My no-waste food commandment also empowered me to make crisps out of the pumpkins' skin. They turned out to be softer than I expected, but maybe it's because I put too much olive oil. I also recommend to bake the pumpkin seeds with sweet or savory seasonings (couldn't include it in the video because it would've been too long!).
EXTRA TIP: I later learned (thanks to "The Art of Doing Stuff" blog) that you can make your fries more crispy by coating them with cornstarch.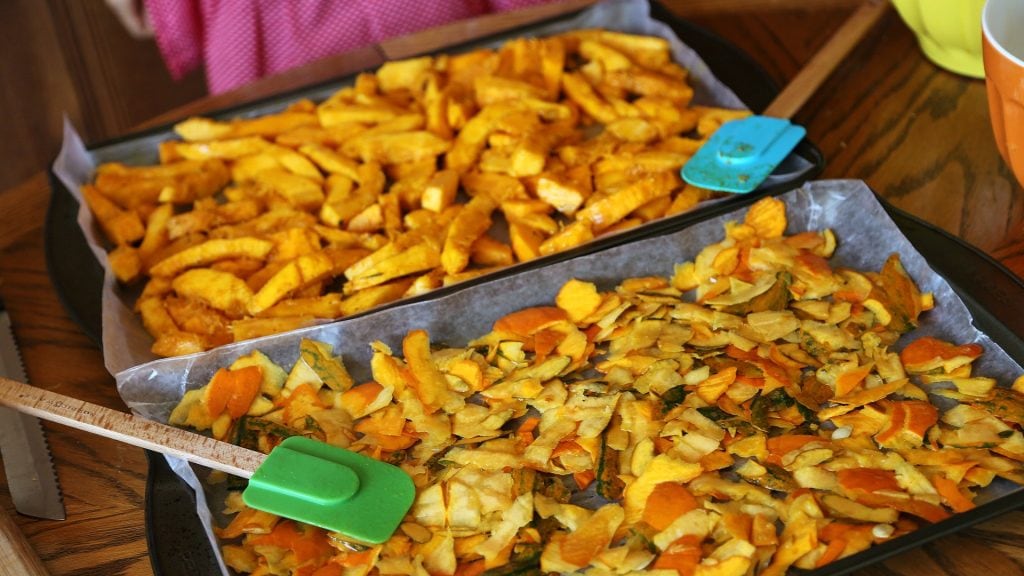 Important note about the cutting of the pumpkin: BE PREPARED TO PUMP SOME ARM MUSCLE. Seriously, cutting a pumpkin is no easy feat, but you could make it easier with a very sharp knife (I used what I had!) and by pushing the knife up and down as if you were hammering it into the pumpkin.
It IS a lengthy process, but it's totally worth it!
Finally, because I'm a fan of possibilities, here are some extra dip combinations that I've tried…
Sweet dips:
-⅓ cup Maple syrup + ½ cup nonfat yogurt (the one in the video)
-¼ cup low fat mayo + ¼ Dijon mustard + 2 Tbsps. honey
Savory (personally, I liked these better than the sweet ones) dips :
-Onion powder + sour cream (the one in the video)
-½ cup Greek yogurt + 2 tsp. parmesan + 1 tsp rosemary
-this delicious Horseradish Dijon Dipping Sauce (find it at Ying Mom Yang Mom)
Prep: 20 mins.   –     Cook time: 40 mins.   –    Servings: about 5-6

Ingredients:
2 small pumpkins (yes, you can use any small squash too)
Pumpkin crisps:

1 teaspoon garlic

1 teaspoon salt
Fries' seasoning:

¼ teaspoon cayenne pepper

2 teaspoons turmeric

2 teaspoons garlic

salt & pepper
Savory Dip:

½ cup of sour cream

2 teaspoons of onion powder
Sweet Dip:

⅓ maple syrup

½ cup of fat free yogurt
Buen provecho! (Bon Appetit, Enjoy!)  oh and if you are like me, Fall for Fall!!
Related posts: