This Southwestern Chicken Casserole is pure JOY.
And an extended joy if you count the long weekend! "Long weekend" for me is a synonym of:
Staying an extra hour in bed
Making plans to go out in the sun (if you can! Hopefully you can!)
Forgetting about work at least for a little bit, enjoying the moment.
Aaand my favorite: spending some more time cooking!
Which is why I made this summery-dish that's perfect for Memorial Day Weekend – or any long weekend after that. It's not hard to make -as you will see it's basically layering up levels of goodness in between a mighty poblano pepper sauce that tastes like border-town fun.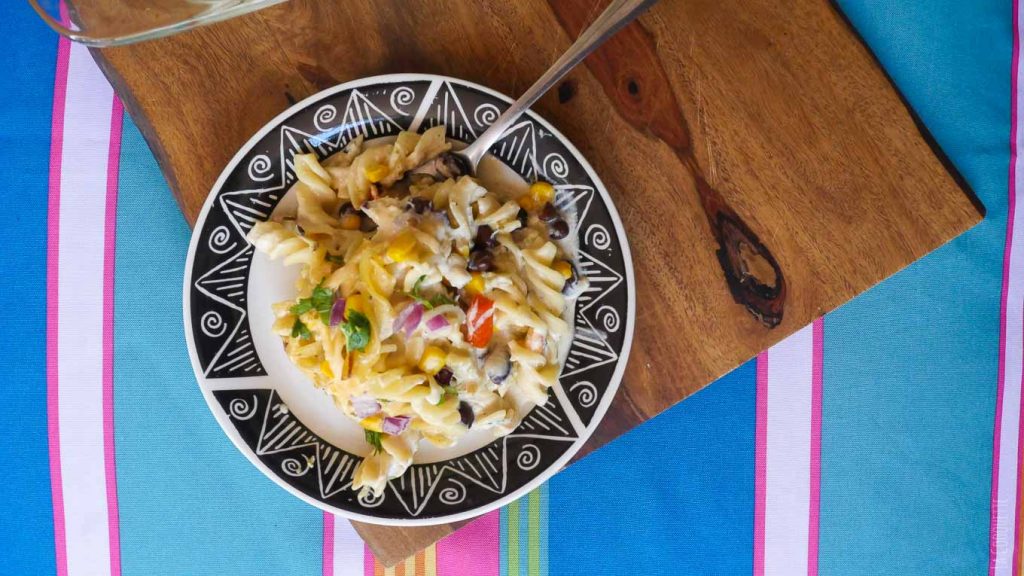 It has the satisfying feeling all casseroles have, of just putting things together and then letting them cook slowly, forgetting about it for a bit if you dare say. But I can't say it's "just a casserole" – the minute you try a spoonful of this creamy and spicy concoction you'll be transported to a fiery hot El Paso, Texas.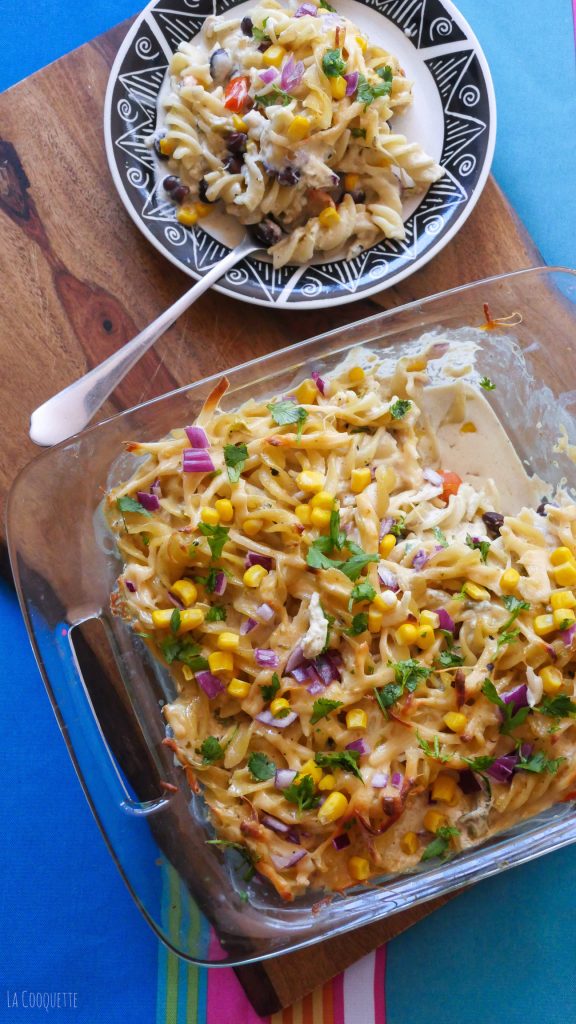 You wanna know a secret? Initially, I was going to create a salad with these ingredients, but I couldn't get off my mind the idea of making a green molcajete salsa I had a LOT richer — and thanks to Mexican media crema for existing!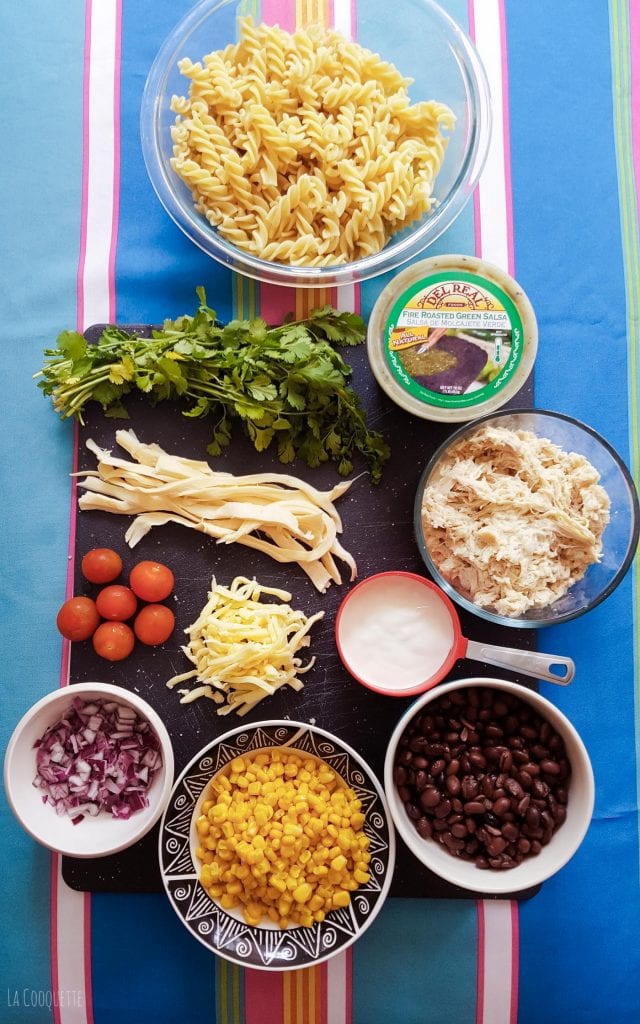 This Southwestern Chicken Casserole recipe was created for the Deal Real Foods blogger recipe challenge – if you liked it, I'd really appreciate it you voted for it! JUST GO HERE!
 Last day to vote is June 6th! ☺
Southwestern Chicken Casserole
Prep time: 15 min    Cooking time:  25 min    Total time: 40 min.
INGREDIENTS:
½ package of Del Real Foods' Salsa de Molcajete Verde

1 full package of Del Real Foods' Shredded Chicken

300 grams (or 12 oz) of fusilli (or favorite pasta), cooked

1 can of black beans, rinsed

14 oz of media crema (thick, Mexican cream. Substitute: heavy cream)

½ small red onion, chopped in squares

1 ½ cups of shredded asadero cheese

1 cup of shredded manchego cheese

8-10 cherry tomatoes, sliced in thin slices

1 small bunch of chopped cilantro, for decoration
DIRECTIONS:
Preheat oven to 350 F

Make your green molcajete crema: in a small pot add half of Deal Real Foods' Salsa de Molcajete Verde and 1 ¾ cup (or 14 oz) of media crema (this is a Mexican thick cream, substitute with heavy cream). Cook in medium heat, stirring, and mix well. Remove from stove.

Build your casserole in layers! In an oven-safe pan (I used a 6 x 6 in pan), add a thin layer of green media crema to the bottom and then a layer of pasta – make sure you cover all the surface. Next, spread out on top of the pasta about 1 cup of black beans, ½ cup of corn, a couple of tablespoons of chopped red onion, the slices of 4 cherry tomatoes and half of your shredded manchego cheese.

Add a layer of Del Real Foods' Shredded Chicken, spread it out.

Continue your layers with a cup of the green media crema top it off with ½ cup of shredded asadero cheese.

Repeat the pattern! Pasta + veggies + manchego cheese +  chicken + media crema + asadero cheese.

Finish off with a last layer of pasta, 1 cup of media crema, and shredded asadero cheese.

Cover pan with aluminum foil and bake for 20 min covered.

Take casserole out of the oven, remove aluminum foil and bake for 10 more minutes for added crispiness.

Remove from the oven and enjoy!
Related posts: