Ready for Thanksgiving?
If you're in a place where Thanksgiving is not celebrated, it doesn't matter: there's always a great excuse around the corner to cook and bake "Autumny" desserts!
I'm usually very aware of how stores take advantage of holidays and seasons to trick you into buying seasonal items…but lovely Fall and heart-warming Thanksgiving are so tempting that…I declare myself guilty, yes VERY GUILTY of falling for even the easiest marketing tricks.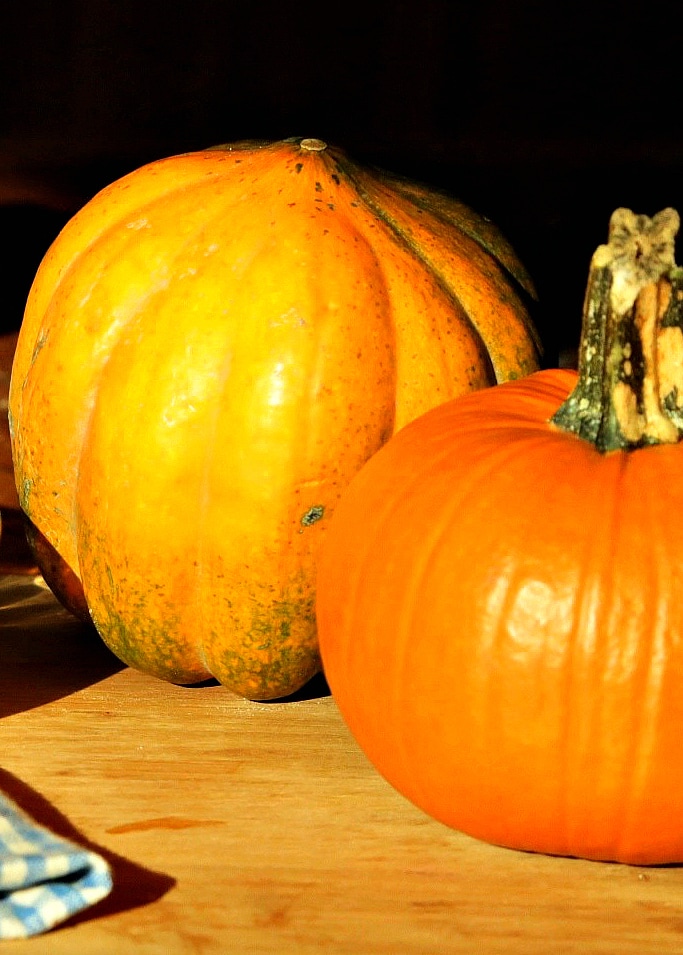 Oh, but it is so irresistible! There are many varieties in the family of pumpkins, and each of them brings such an incredibly tasty and versatile flavor… you can seriously create a LOT of different delicious things with it (desserts, soups, fries -yes, fries- yams, fudge, etc.)!
Out of all the possibilities, it's always good to know how to do the classics right. And you know it doesn't get any classier than Martha Stewart, so that's exactly why I got inspired to tackle her original Classic Pumpkin Pie recipe, but making it a tad much sweeter.
Watch my recipe video for a sweeter version of her Classic Pumpkin Pie:
"Sweeter disclamer": I basically just let some more condensed milk slip into the recipe, trading its measurements with those of evaporated milk. If you're watching what you eat (please, holidays are a great excuse not to!), you can just trade the proportions back again.
I would've loved to make the pumpkin purée from scratch, but then you would've been left with a 10 min long video (and who has that much time? haha!). Aaand, now that we're talking about it…you want to know a funny little secret? I used to think the purée came from the guts that are carved out when you make Jack O Lantern's (check mine out below!), although I recently found out that, of course, this is not true: it actually comes from the "meat" of the pumpkin!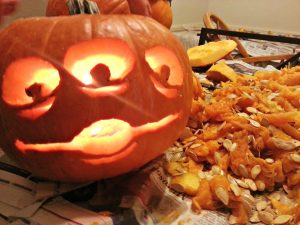 If you do want to make your pumpkin purée from scratch, you should choose small pumpkins over larger ones (they tend to have sweeter flavors), cut your "pumpkin meat" in wedges and try one of these methods:
-Baking them until soft, on a 350 degrees Farenheit oven, for about 30-45 mins (or until soft). You can then peel the skin easily from the goody part.
-Boil them until soft (about 20-30mins), peel, and then mash them.
Oh, and one last VERY important note: 
To avoid any glass cracks or breaking, make sure your oven is preheated. Glass doesn't break easily, unless its a sudden change in temperature from hot to cold. The change from cold (AKA "your freezer") to hot (AKA "your oven") is fine as long as your oven is preheated. No accidents in the kitchen please!
Ingredients:
(for a 9 1/2-in or even a 10-in pan)
Adapted a little bit from the original "Classic Pumpkin Pie" recipe by Martha Stewart.
1 tsp ginger
1 and ½  tsp cinnamon
¼ nutmeg
½ tsp salt
1 can pumpkin purée
1 tbsp cornstarch
⅔ brown sugar
1 tsp vanilla
½ tbsp heavy cream
1 cup evaporated milk
½ cup condensed milk
3 eggs (1 save it for the egg wash)
½ recipe of Martha's Pâte brisée  – yes, this is worth making from scratch, and to get the perfect flaky crust!
1 and ¼ cup flour
½ tsp salt
1 stick  butter
¼ cup of cold water
Holidays or not, this pumpkin pie in and of itself IS a reason to celebrate!
Enjoy! 😉
Related posts: