These

turmeric

and ginger

mango paletas

are LOADED with summer

!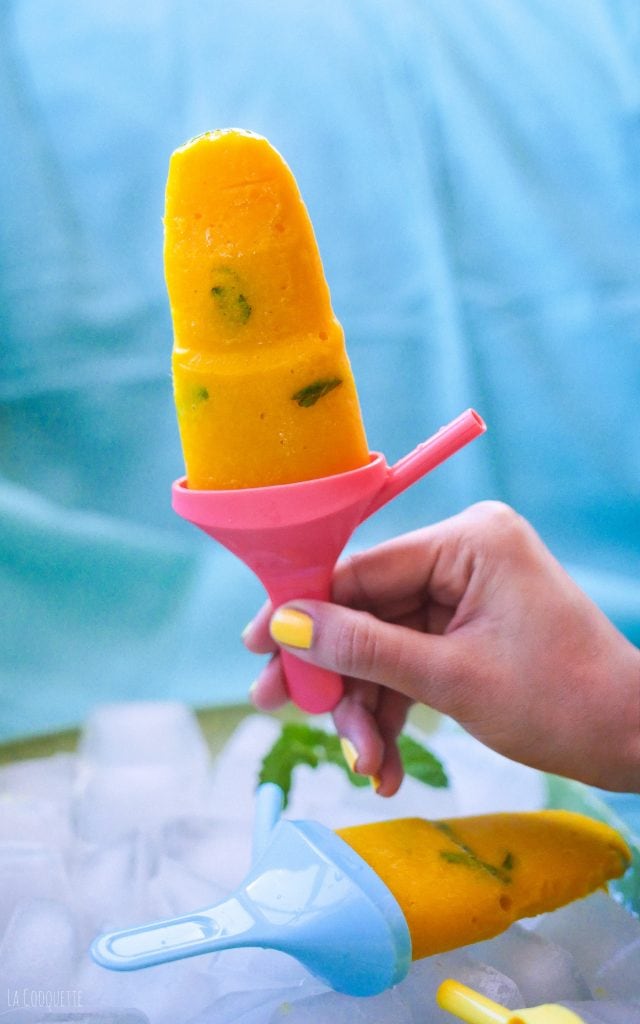 Summer is HERE people, and these paletas are proof! Or maybe it's the unbearable heat, or the many times I've heard about someone else's vacations (none for me boohoo)… mmm… anyways, the fact is that the time to have fun in the sun and munch on frozen goodies 'round the clock has arrived and you can't be missing out!
Guess what else is in these paletas? Mint and coconut milk! All of these ingredients pretty much remind me of being on an island, so fresh and tropical, so I guess you could say they're like a mini-vacation on a stick!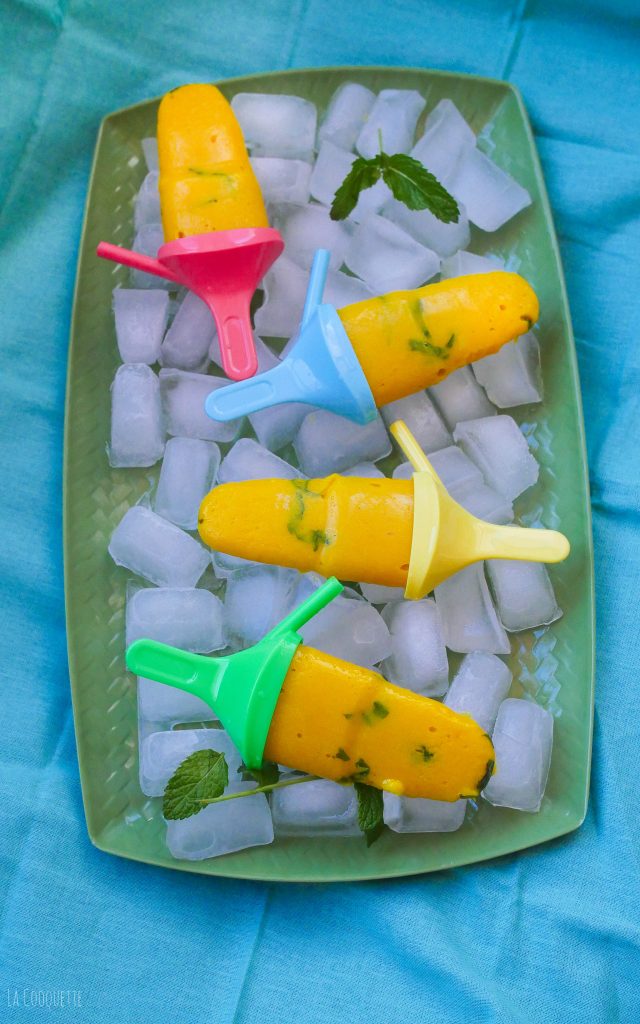 Their flavor is amazing, but that's not what I like most of these… These are POWERFUL paletas. In case you didn't know, turmeric and ginger are both super roots that can do a lot of good to your body!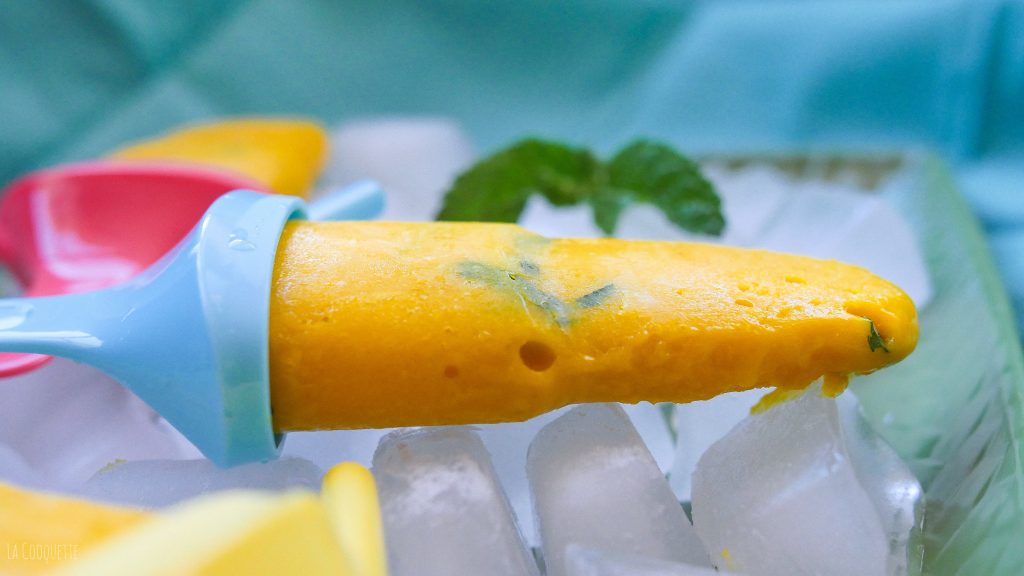 Just to exemplify this, here are some of the benefits of turmeric and ginger (in turmeric, "curcumin" is the potent component)*:
Both turmeric and ginger are potent antioxidants
Both are anti-inflammatory
Ginger is powerful in fighting nausea
Both turmeric and ginger can aid with colds and respiratory diseases
Turmeric stimulates your digestive system, speeding breakdown of dietary fats
Turmeric's curcumin has anti cancer properties and by inhibiting cancer cell growth, it may help prevent prostate, breast, skin and colon cancer
Both turmeric and ginger offer pain relief for rheumatoid arthritis
Ginger can protect the brain from damage caused by Alzheimer's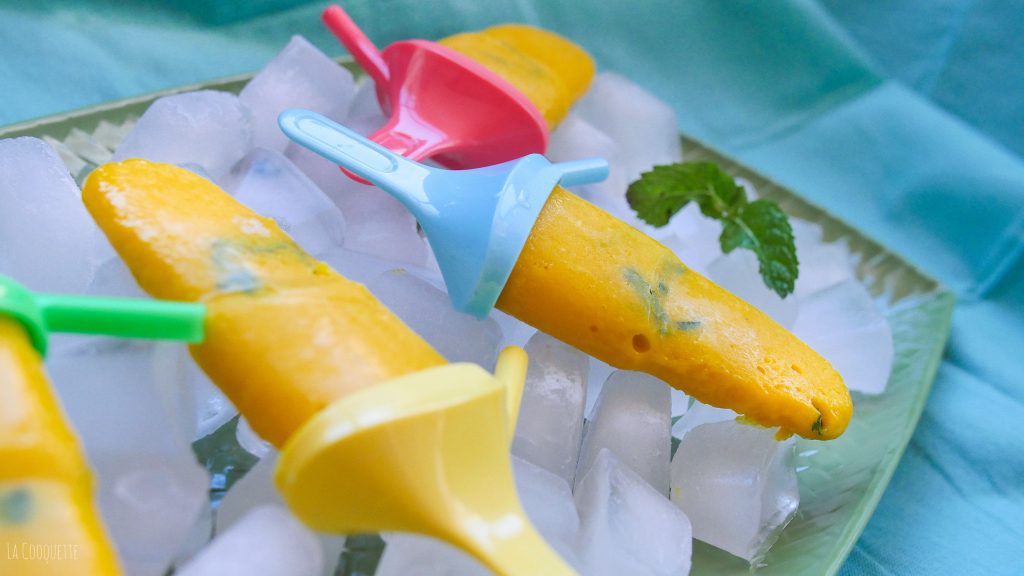 Basically both of them together can make you invincible.
It's funny because initially, I wasn't going to add turmeric to the mix, but after going to the market one day I bought it to try out this popular golden milk drink. It was only later when I found out that turmeric and ginger not only were superheroes but they also went really well in certain Indian dishes and smoothies so I thought: why not paletas?
And yes, you don't need an excuse to make mango paletas, but hey if you can say you're improving your health while at it, that means more paletas to be had!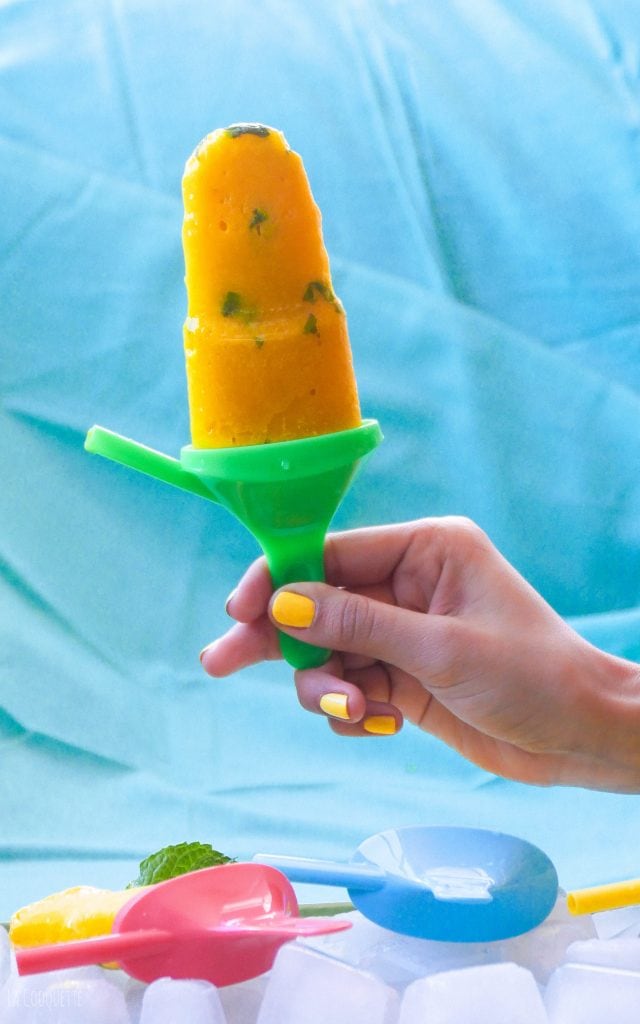 So many yummy ingredients, so many excuses to have more than one! Hope you have fun in the sun while trying these!
These Turmeric and Ginger Mango Paletas are part of #PaletaWeek hosted by Lola's Cocina. Check out all the delicious paleta flavors that are included in this fun roundup! 🙂
**Sources I used for health facts:
Turmeric and Ginger Mango Paletas
Prep time: 15 min    Freezing Time:  6 hours    Total time: 6:15 hours
INGREDIENTS (makes 4 paletas) :
1.5 medium-to-big sized ripe mangos, peeled and chopped
3 tbsps of coconut milk (substitute: soy or almond milk)
2 tablespoons of honey
2 tsps of fresh grated ginger
1 tsp of fresh grated turmeric
chopped mint (lengthwise), for decoration
1 cup mint syrup
Mint syrup:
2 tablespoons of sugar
1 cup of water
about 10 mint leaves
YOU WILL ALSO NEED:
Popsicle molds (or glasses with wooden sticks!)
DIRECTIONS:
Make your mint syrup: put water to boil and add sugar; mix to dissolve. Once it boils, add the mint leaves and turn the heat off. Let it rest and infuse with flavor for 10 minutes.
Peel mangos and chop them in medium chunks. Transfer to blender.
Add the rest of ingredients to the blender: coconut milk, honey, grated ginger, turmeric. Finally also add the strained mint syrup.
Blend very well and transfer liquid into your popsicle molds. Stop halfway through to add a couple of chopped mint pieces, for decoration. Add some more at the end as well.
Freeze for at least 6 hours or overnight. ENJOY!
Related posts: