Sometimes skulls can be tasty… and so much fun!!
That is, if you make them with white chocolate and edible decorative things! 😉
I was trying to come up with a recipe that would serve two holidays that I love: Halloween and Día de los Muertos (o "Day of the Dead"), and noticed they each had at least one thing in common: there are skulls everywhere!
So, on an attempt to tweak the lovable recipe for caramel or candied apples, I came up with White Chocolate Pear Skulls!! If you think about it: pears do resemble the shape of a skull, and the white chocolate just completed the image.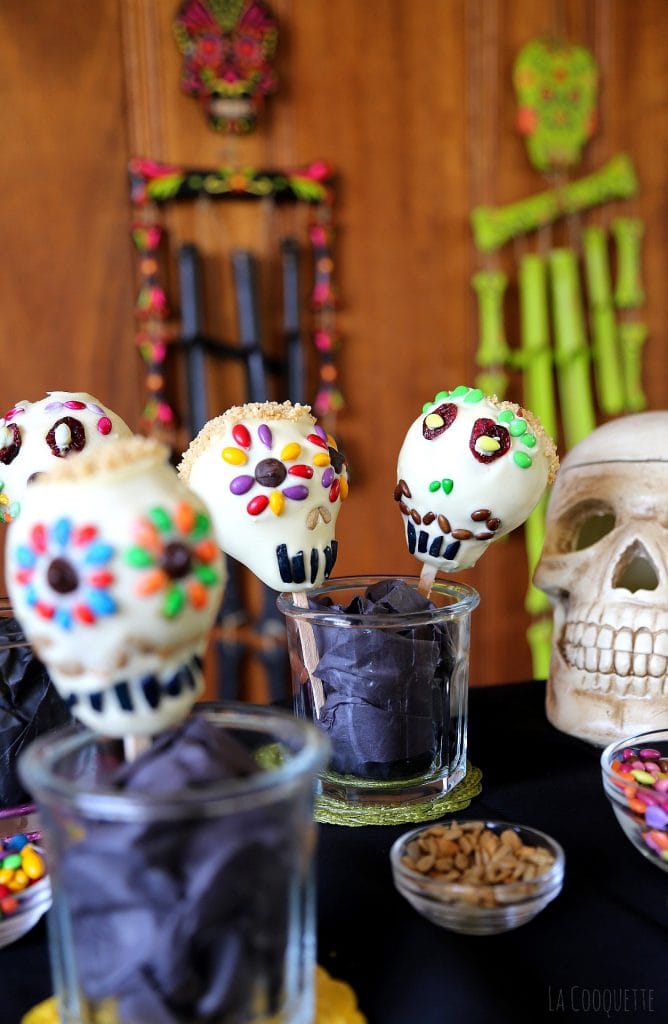 Of course, the Mexican Day of the Dead skulls are faaaar more colorful and joyful than the "scary-looking" Halloween skeleton (even considering Tim Burton's).
Take a peek of this video recipe to see how I decorated them!!
The best part of this recipe is that you have total freedom to let your imagination flow in decorating the skulls. If you need any ideas for designs, I created a Pinterest board just for that! You can see it here.
To be honest, it was a bit tough to decorate on semi-melted white chocolate on a pear. So the best advice I can give you is to make your designs in advance! This is a very fun activity to do with children or a group of friends, to compare designs and crazy faces or simply discover all the edible things you can use as decoration!
I also chose to decorate them in the colorful, Day of the Dead manner to show people how certain things are not to be scary at all. You see, the Mexican tradition for that day is to honor their loved ones who've passed away, and I actually found out that there's so much color and many crazy colorful skull designs for face paint, sugar skulls, and everything, because it is a way to celebrate. That is certainly a pretty sweet and such a bright way of looking at something as scary as death!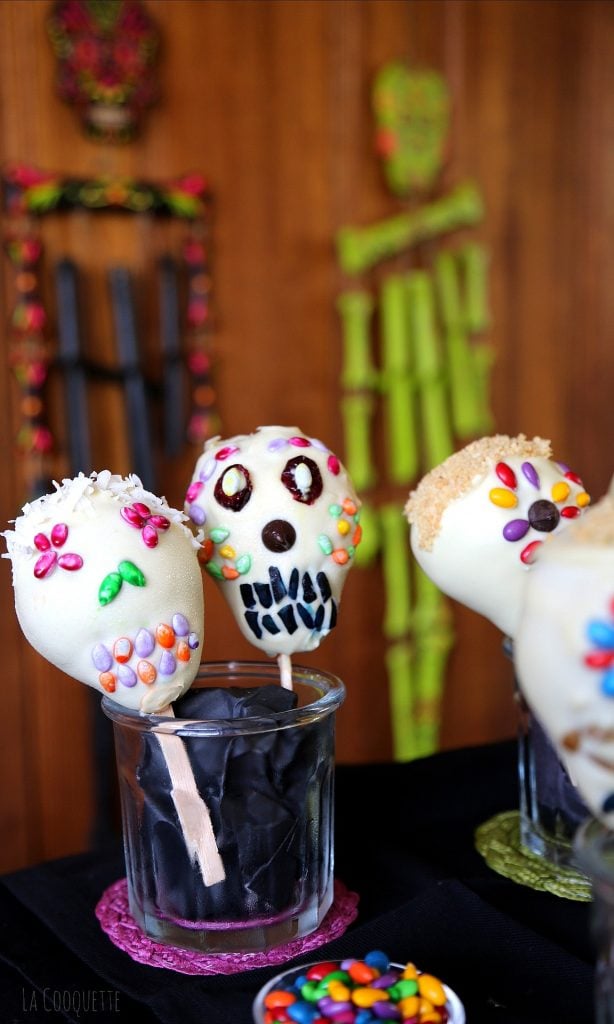 So fear not, and enjoy eating this "healthier" version of sugar skulls!
White Chocolate Pear Skulls (Halloween Recipe)
Prep time:
30 min

   Cooking time:  

20 min

   Total time:

50 min

—> For preparation steps, see the recipe video I posted above!
Utensils
1 small pot and another big one where the small one fits (for the baño maría – water bath)
5 small-medium wooden sticks (the type you use in crafts, ice pops etc. – make sure they hold the weight of the pear)
Ingredients
(to make 5 chocolate skulls)
5 small-to-medium sized pears (I got the firmer pears)
24 – 30 oz of white chocolate chips (depends on the narrowness of the pot)
You can use any small candy or nut to decorate but I used:
Sunflower seeds
Colorful chocolate-covered sunflower seeds (I found some at Trader Joe's)
Crushed peanuts
Dry cranberries
Milk chocolate chips
Slivered peeled almonds
Food coloring (to color the nuts in different colors)
Other ideas:
Crushed cookies
Colorful frosting
M&Ms, Skittles, etc.
Related posts: